The word that pops to mind most often these days about the Volkswagen line of Rabbits and Passats and Beetles and Touregs is "nifty."
They all share a look similar to their German brothers Audi and BMW, but distinctive enough to mark them as clearly Volkswagen machines. The interiors seem perfectly fit to each particular model's purposes, from the racy blacks of the R32 to the more playful approach of the Beetle.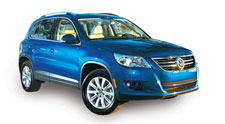 Volkswagen Tiguan
Volkswagen's new entry into small-to-midsize SUV market, the Tiguan, carries on that same niftiness in a scaled-down version of the popular Toureg.
As buyers continue to turn away from the larger, gas-thirsty SUVs, smaller versions that can ease pain at the pump while still providing a lot of interior space may be the way to go for those unwilling (or unable) to forgo their four-wheel-drive habits.
While the Tiguan won't pass for an economy car, it pulls a respectable estimated mileage of 18 mpg in the city, 24 mpg on the highway.
As a pure driving experience, the Tiguan is as solid as they come, combining tight handling and great road feel for an enjoyable ride. If you spring for the optional panoramic sunroof that opens up a huge portion of the roof, you'll feel almost as if you're driving a convertible — although at $1,300 that might be too much of a luxury these days.
2009 Volkswagen Tiguan SE 4Motion
MSRP: $28,875 ($33,165 as tested)
Gas mileage: 18 city/24 highway
Highlights: Sharp-looking both inside and out; superb driving experience.
Lowlights: Options can quickly make it pricey; gas mileage isn't exactly thrifty.
On the outside, the Tiguan sports the familiar grille and headlamps up front and sloped taillights in back. The sharp, but not flashy, approach is perfect for those turned off by some of the gaudier SUVs currently on the roads.
Overall, the Tiguan is well worth some time behind the wheel, for Volkswagen fans and newcomers alike.