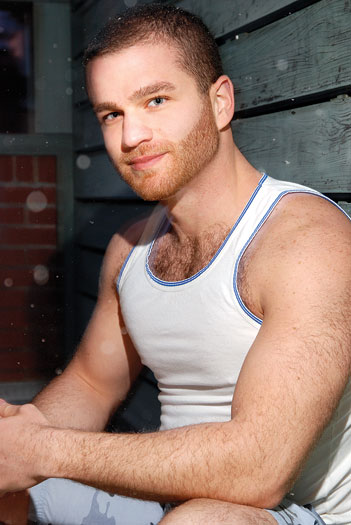 Austin Allan
(Photo by Jeff Code)
Austin Allan says he's not at all the same person he was 10 years ago. "I don't even know that person anymore," he says with a laugh.
The 28-year-old Allan doesn't look like him, either. During an interview in the tidily kept room he rents in a spacious and beautiful Mount Pleasant brownstone, he presents his original passport photo. The now always short-cropped, auburn-haired knockout used to let his thick, naturally curly hair grow. For his college ID, he even bleached it.
"Tragic," he laughs.
These days he's also some 25 pounds lighter, a muscular 5'11" where he used to be chubby. "I was kind of overweight, self-conscious, and without a whole lot of self-esteem," he says.
Still, then — as now — he was popular. "I think people respected me for being who I was." Namely, an out gay teenager in an open-minded high school in Princeton, N.J. The editor of his school newspaper and a debater in Junior State of America, Allan founded his school's gay-straight student alliance. "I've been told I projected an air of confidence, though I certainly didn't feel it," he says.
Allan credits Washington with helping him gain self-confidence. Being the Nightlife Coverboy this year during Capital Pride week certainly didn't hurt.
"It was a lot of fun, actually — more fun than I expected," he says. "I went to Pride and walked around and all these people kept coming up to me, 'Oh, you're the Coverboy!"'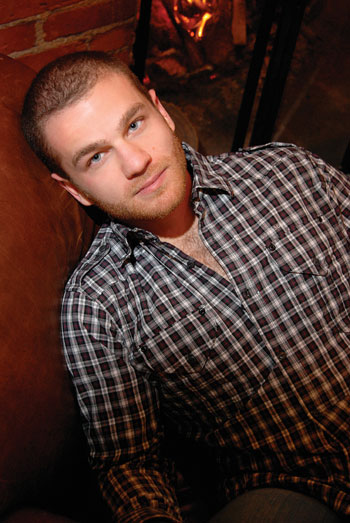 And to see the friendly, magnetic Allan out and about, be it at Town, Halo or at the 9:30 Club for Blowoff or for a concert, is to see that he does indeed know lots of locals. A local friend set up a Facebook group to encourage Allan's 400 friends on the site to vote for him in this Metro Weekly year-end competition. Most of the group's members are residents of D.C., although Allan also knows that "votes came in from all over the place" — from his gay brother in L.A., to a half-sister in Jersey, to the many friends the globetrotter has made in faraway places such as Spain, Mexico, South Africa and Canada.
Prior to Washington, Allan lived in Spain, a country he credits for putting him on the path of who he is today. "Spain really helped me to come out of my shell a lot," he says. "Not only was I forced to talk to people I didn't know, but it was in another language."
Being exposed to a different culture helped Allan realize different ways of thinking, doing, being. A finicky, junk-food eater growing up, Allan recounts his first expatriate encounter with hand-cured Serrano ham, a Spanish staple: "Eww, I won't eat that. Give me some real ham. Oscar Mayer." Now, he loves it. He also loves approaching life with a purpose.
"I'm a person that has never had long-term goals until now. I've always just fallen into things," Allan says. He only studied Spanish in high school because his brother, three years older than he, had done so, and he wanted to be like him. He went to Washington University because his maternal family lives in St. Louis. Then in college, he reasoned he should major in Spanish since he had already accrued many credits by placing into advanced Spanish. He ended up with a dual degree, Spanish literature and marketing. "I wanted to market Spanish literature," Allan jokes.
Allan moved here four years ago, following an Argentinean boyfriend he had met in Barcelona. The relationship didn't last, but Allan stayed. It took him a while to adjust.
"It was hard for me sometimes to express myself because I trained myself to think and speak in Spanish all the time. So for the first six months, anybody that even looked Latino, I would talk to them in Spanish. And a couple times I made an ass out of myself, with people who looked Hispanic but didn't speak Spanish well or at all."
He originally worked for a Spanish company that helped Hispanic immigrants to the United States establish themselves financially. Now he's happily employed as a branch manager at a downtown Wachovia. He says he likes his job, but his natural wanderlust would like it to involve more travel. He eventually plans to move to New York — in fact, he's hoping to transfer to a Wachovia branch in Manhattan.
Ask Allan how long he's had his beard, and he might joke, "Since I was 9, I think." In reality, he's had it for about five years. "I feel naked without it, and I look really young."
But people assume because of his beard and general bear-cub quality that he's a leather guy. While he does own a leather harness and other leather accouterments, he considers them part of his costume when he goes to an occasional leather event — not part of his lifestyle. Another misconception is that he's a Latinophile. "I find myself attracted to guys with dark hair and dark eyes, dark features," he says. "I just like that kind of intensity."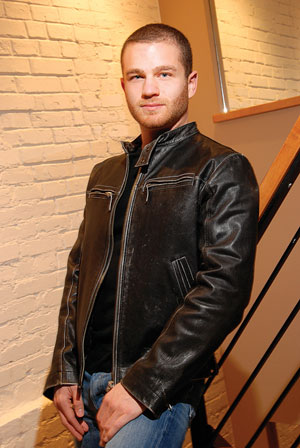 Ultimately, he's drawn to people from other cultures or with a lot of experiences in different cultures — "They have so much to talk about." But he's no longer dating the French Canadian he was during his Pride-week Coverboy stint. That ended a few months ago, after about a year of long-distancing. "We're still good friends. He's a great guy."
When he's unwinding at home, he's as likely to be watching HBO's Summer Heights High or Comedy Central's South Park as he is to be listening to music. But music is his chief passion. His wide-ranging, current favorites include Hercules and Love Affair, Hot Chip, Radiohead, Smashing Pumpkins, even Madonna. He is gay, after all.
While piercing blue eyes garner him the most compliments, he considers his best feature to be his smile.
"When I see people out, on the street or in a club," he says, "if they're smiling, they look they're having a good time. They seem that much more attractive. So I try to smile a lot."
2008 Coverboy of the Year Winner- Prize Package
$500 Cash
18th & U Duplex Diner — $100 Dinner Certificate
Annie's — $100 Upstairs at Annie's Gift Certificate, Birthday Cocktails at Upstairs at Annie's Worth $100, and For Duration of Tenure, First Cocktail Complimentary Per Visit (limit one per day), either level
Apex — Free Admission for 2009
BeBar — Ultimate Rock Star Package: Exclusive VIP Suite access for 1 evening, including 3 Grey Goose Bottle Services, access for up to 50 guests, and pick-up service for winner to and from venue compliments Cadillac (Value: $1,000)
Blowoff — Complimentary Admission from January to June 2009
Club Fuego — 2 Admissions and a $50 Bar Tab
Club Hippo — Free Entry for 2009
Cobalt — $100 Bar Tab
DC Eagle — $50 Bar Tab
DCDD's Capitol Pride Symphonic Band — 2 Tickets to March concert
Fireplace — $75 Bar Tab
Floriana Restaurant — Dinner for 2
Folger Consort — 2 Tickets to Gloria, an All-Vivaldi Concert at Washington National Cathedral Jan. 9, 2009
Freddie's Beach Bar — Sunday Champagne Brunch for 2
Gay Men's Chorus — 2 Tickets to everything gAy to Z in March and 2 Tickets to friends in June
Green Lantern — 2-hour Cocktail Party for Winner and up to 50 friends (exp. 6/30/09)
JR.'s — $100 Bar Tab
Kennedy Center — 2 Tickets to Legally Blonde: The Musical in the Opera House (12/16-1/11/09)
Landmark Cinemas — 20 VIP Passes
Leather Rack — $75 Gift Certificate
Level One Restaurant — $50 Bar Tab
Metro Wednesdays at Midtown — Free bottle of Champagne
Mid-Atlantic Leather Weekend 2009 — 1 Weekend Pass to the Centaur MC-sponsored event, including Reaction Dance
Nellie's Sports Bar — $100 Bar Tab
Olney Theatre — 2 Tickets to any show in the 2009 season
Omega DC — $50 Bar Tab
Reel Affirmations XIX — 2 VIP Passes to next October's GLBT Film Festival
Round House Theatre — 4 Tickets to One Flew Over the Cuckoo's Nest in April
Signature Theatre — 2009 Pride Night Subscription for 2
Shakespeare Theatre Company — 2 Tickets any one remaining production in the 2008/09 Season
SKIN: Cosmetic Dermatology of Georgetown — $100 of Professional Skincare Products
Synergy Day Spa — $50 Gift Certificate good toward any service
Town — $100 Bar Tab
Universal Gear — $100 Gift Certificate
Woolly Mammoth Theatre Company — 2 Tickets to any one remaining production in the 2008/09 Season
Please Note: Some restrictions may apply to certain prizes.
Our thanks to all those businesses and performing arts venues who graciously provided prizes to this year's Coverboy winners.
All Coverboys Photographed by Jeff Code on Saturday, Dec. 6, at the Adams Morgan home of Eric Hirshfield.
Metro Weekly thanks Eric and his roommates Daren, Christopher and Ike for their hospitality.