If you were to record an album at a gay sex club, what kind of music would it be? Dance music seems obvious — it's not called "gay thump-thump" for nothing. Or maybe you don't record music at all, just the natural sounds you hear coming from the private rooms, a different kind of thump-thump. Of course, if you wanted to be traditional, showtunes and cabaret could work. It worked for Bette Midler, after all.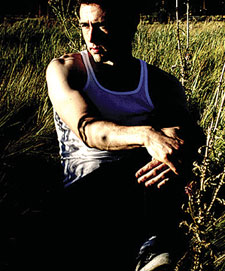 Sacha Sacket
But gay singer Sacha Sacket went in a completely new direction while recording a recent concert at the Zone, a Los Angeles sex club. Live at the Zone starts off dark and dour and intense, but as it progresses it becomes more melancholic than angsty. It's a high concept for sure – and maybe just a tad too labored. But as long as you don't actually listen to the album while at a gay sex club, you'll most likely find it appealing.
Sacket is part of a newer crew of gay singers who seem indirectly influenced by Rufus Wainwright. It's dramatic pop, pure and simple, with a strong gay sensibility, informed as much by Broadway and folk as by rock and blues. The songs on Live at the Zone are drawn from Sacket's previous self-released artist albums, but they take on a harder edge here. And this is a perfect introduction to Sacket if you haven't encountered him and his rich baritone before. Like Wainwright, Sacket makes music that's gorgeously grandiose at turns – especially when it's expressing his most depressive thoughts and feelings. Sacket encourages someone to weave a tall tale about himself on "What You Are." The piano in the bridge gets unbearably beautiful and elegant as Sacket expresses the future regret that can come from present happiness. "You're sure that soon there will be hell to pay, but don't you let that spoil the mood," he sings (and remember, he's singing this at a gay bathhouse). "You know that there are more than shades of gray. You grab on till they're black and blue."
SACHA SACKET
Live at the Zone
Golden Sphinx

Releasing
Tuesday, Dec. 9
On the stark, progressively intense ballad "I Just Can't," Sacket sings about how he can't forgive a lover who caused him too much pain. "Tried to pick you up, but you begged me to fall. I gave you my whole heart, you went for my soul."
The album opener, "Brandon Boyd," named after a boy Sacket grew up with in California who went on to found the rock band Incubus, tackles the cult of popularity off which humans seem to thrive. "We are the cool kids," Sacket snarls. "We keep the fat chicks and the fags in line."
Sacket recorded Live at the Zone with his all-female band the LadyKillers. They offer as much heat and tension as anyone else at the Zone on any night. It's not exactly touchy-feely — it's too somber for that. But it will grab and move you just the same. And so will the fact that proceeds from the album benefit a South African charity helping children affected by HIV/AIDS.
Matt Alber makes music that's dreamier, more orchestral than Sacket, which isn't surprising, given that Alber spent the past five years as an alto in the classically-minded male a cappella ensemble Chanticleer. He opens his debut solo album, Hide Nothing, with the grand first single "Monarch," which slowly takes flight musically as dazzlingly as a butterfly, ending with Alber fluttering his vocals to the sky.
He tends to overdo that, unfortunately. Alber's voice is gorgeously smooth, and his falsetto top-notch. But sometimes you get the idea he doesn't like the sound of his lower-register — or perhaps it bothers him just how uncannily it sounds like Wainwright's. He's got better pitch, for sure. The charming "End of the World" is an exquisitely beautiful ballad, as touching as the best in the Wainwright oeuvre. And he sounds better on it than Wainwright could.
MATT ALBER
Hide Nothing
Silver Label/Tommy Boy
$16.98

But all of the fluttering falsetto throughout Hide Nothing makes you think less of Wainwright. And because Alber often sets his vocals against New Age-style experiments in electronic sonics, he makes you think of a male Sarah Brightman. Certainly no one needs that. "Field Trip Buddy" is every bit as naïve and wispy as Brightman would conjure up. This ode to an elementary school crush turns sappy before he even sings "the sugar plums turn to cotton candy, our foreheads so close." Too close. It all turns to ooey goo.