Most reunions are bittersweet affairs, occasions to strengthen and celebrate bonds, and to reminisce and remember those absent. Mid-Atlantic Leather Weekend, running Jan. 16 to 18, will be no exception.
What attendees will celebrate is 25 years of the Leather Weekend, as presented by the Centaur MC (Motorcycle Club), packaged with the Mr. Mid-Atlantic Leather Contest. The history goes further back, of course, to leathermen socializing in a room in New York's Waldorf-Astoria in 1975, a small party dubbed "Leather Cocktails." This year's theme, "Leather Legacy," focuses on the quarter century of this current incarnation of a full weekend of Centaur-organized events in Washington, going back to 1985 and the very first Mr. Mid-Atlantic Leather, Jeff Vertis.
"Leather Cocktails is such an historic event," says Dr. Larry Barat, a Centaur and MAL's promotions chair. "It was one of the first big gatherings of leathermen ever in this country. We still think of Leather Cocktails as the centerpiece of Leather Weekend."
If the Leather Cocktails party is the centerpiece, it is the attendees who are the soul of Leather Weekend. This year, Wayne M. Nesbitt will not be among them. In the early hours of June 14, Nesbitt, a judge of 2007's Mr. MAL contest, suddenly collapsed while socializing with friends at the D.C. Eagle. He died shortly after without ever regaining consciousness, his heart having simply stopped. He was 45. Not only a past judge, Nesbitt was also the first African American to win the Mr. D.C. Eagle title, 1997-98. He competed in MAL in 1998. He never belonged to any leather group officially, though the Centaurs had named him an "official Centaur groupie." In 1999, another leather group, Highwaymen TNT, lovingly named Nesbitt and his partner, Glenn Carpenter, who died in November 2006, as "Honorary Trash of the Year." Nesbitt, independent to the end, was nevertheless a celebrity of the D.C. leather community.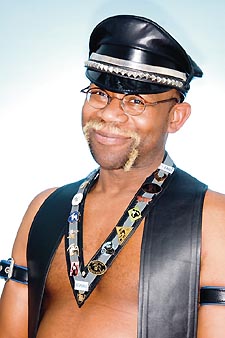 Wayne Nesbitt
Though Nesbitt will surely be missed at this year's gathering, his mother, Novella Nesbitt, recently announced a memorial fund in Wayne's name that may allow leatherfolk a more lasting connection to his memory.
"After his death, I was thinking one day about what I could do," says Novella Nesbitt. "I knew it had to be something to do with the arts, to do with education. Those were things that were near and dear to his heart."
To that end, she announced a fund in her son's name that will be used to purchase art supplies for low-income students at the Duke Ellington School of the Arts in Georgetown. Tellingly, her Oct. 15, 2008, letter announcing the fund to friends and family noted Wayne's early interest in art: "His talent and dedication landed him a National Bar Scholar Award and his college Senior Studio Art show, 'Images Dealing with Identity and Masculinity,' received departmental honors at Carleton College." He would go on to work in television production.
Considering Wayne Nesbitt's involvement with MAL, his mother offers her thanks to the community.
"I'd like to say thank you because I've gotten letters from people I don't know. I've got them all at home. I have written people back to say thank you, and I'm sure some of these people are from the leather community. I'm very grateful for them writing me. In his memory, in his honor, if they could contribute to the fund, the family would be very grateful and appreciative."
Paul Rensted, a close friend of Wayne's and now of Novella's, first attended MAL when Wayne judged the contest in 2007. He says he's not sure he'll be able to attend this year, saying that it could be difficult emotionally. He has, however, made a contribution to the fund.
"I was thinking the other day that I should send some more," says Rensted. "His birthday is coming up, Jan. 25. For me, that's more important than the anniversary of his death, because he was so vibrant and alive."
Nesbitt himself would probably advise Rensted to make the time for MAL. As he told Metro Weekly in 2007, preparing to judge the contest while still in mourning for Carpenter: "This is a good moment to get out into the community and to receive love and support from friends and not to be a hermit, because that can happen to you."
Barat confirms that for anyone looking for a welcoming environment, Leather Weekend is it, pointing to motorcycle clubs' roots offering safe spaces for gay men going back to the immediate post-WWII era.
"Our club is very attuned to keeping the tradition of leather alive and not forgetting where we came from," says Barat. "Times have changed and the club is not so much about safety and refuge, but it is about brotherhood and keeping the community together, increasingly embracing diversity.
"For the last few years, we've really tried hard to make this weekend one that people who are new, curious, or who may not fit the mold of a traditional leatherman, but still identify, to make them feel welcome here. On the 25th anniversary, we can look back and remember what the leather community was 25 years ago, but also look forward to what the leather community will be."
Barat also notes that with the Obama Inauguration events starting the same weekend as MAL, there may be an even greater opportunity for outreach.
"There's obviously a 10,000 pound gorilla going on parallel to this," he says with a laugh. "The inauguration will certainly bring an energy to the weekend. There's excitement in the gay community in general about an administration that doesn't see civil rights as dispensable.
"Anybody coming for the inauguration who's interested in our community is more than welcome to stop by the Washington Plaza. Come meet some guys, participate in some events."
Adding that MAL has managed to skirt the recession with only a slight dip in registration numbers, Barat says full registrations and individual tickets are still available, including to the REACTION dance at Apex and actress-comic Kathy Najimy headlining at the Mr. MAL Contest at the Almas Temple, both Jan. 18.
"Kathy Najimy's been a very strong supporter of the gay community for many years," he says. "I remember her at the 1993 March on Washington when she had the honor of introducing RuPaul…. She apparently approached our agent. She is certainly one of the biggest names we've ever had. She's not your typical standup comedian. Really, she is part of our community. She'll have a great time."
The Washington Plaza, 10 Thomas Circle NW, serves as host hotel for Mid-Atlantic Leather Weekend, and will house the Leather Exhibit Hall, opening at 4 p.m., Jan. 16. Tickets to the Mr. MAL Contest, $40 advance or $50 at the door, Jan. 18, at Almas Temple, 1-4:30 p.m., and the REACTION Dance, $35 advance or $45 at the door, Jan. 18, at APEX, 1415 22nd St. NW, 10 p.m.-4 a.m., are available from the Centaurs MC at the hotel or at Lambda Rising, 1625 Connecticut Ave. NW, or the Leather Rack, 1723 Connecticut Ave. NW. Tickets to the RECON Party, $30, Jan. 16, at APEX, 10 p.m., will be available at the Washington Plaza and at the door.
Donations to the Wayne Nesbitt Fund should be made to The Ellington Fund/Wayne M. Nesbitt and mailed to Duke Ellington School of the Arts, Ellington Fund, 3500 R St. NW, Washington, D.C., 20007.