Jeff Buhrman knows his gay ABCs — knows them well. And he'll help the Gay Men's Chorus of Washington recite them at everything gAy to Z, this weekend's annual spring concert.
"The idea came about because GLBT people of all generations don't know all there is about what's happened in the last 40 years of the GLBT movement," says Buhrman, a 23-year veteran with the chorus and its current artistic director. "[We want] to educate in an entertaining way." The specific goal was to help budding gays develop a better appreciation of GLBT history. And to further that goal, Friday's performance is free to students, their parents and educators.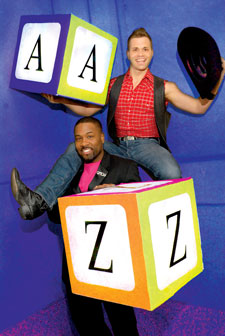 GMCW
In fact, with GMCW, the "A" stands for ambition. Just two months ago, the chorus made history performing at President Obama's Inaugural concert. Along with new executive director David Jobin, Buhrman is hard at work developing three productions for the 2010-2011 season, which will mark the chorus's 30th year as a performing-arts group.
But this weekend, the focus is on the alphabet.
everything gAy to Z opens with a big, brand new arrangement of "New Attitude," and closes with "I Am What I Am," ZaZa's signature song from the Broadway musical, La Cage Aux Folles. In between, the two-hour concert will cover everything from Hollywood to the gay civil-rights movement to coming out.
The performances are dedicated to nationally recognized local gay-rights pioneer Frank Kameny and will include a video about the AIDS Quilt as well as a tribute to Judy Garland, who Buhrman says "was one of the sparks that led to the Stonewall Riots" in 1969.
"We spent two years developing this show, going through our alphabet," he says. "I think we've come up with an incredible variety of subjects with which to entertain our audiences. There's a little bit of everything."
The Gay Men's Chorus performs everything gAy to Z on Saturday, March 21, at 8 p.m., and Sunday, March 22, at 3 p.m. at Lisner Auditorium, The George Washington University, 730 21st St. NW. Tickets are $20 to $50. The Friday, March 20, performance at 8 p.m. is free to high school and college students. Call 202-293-1548 or visit www.gmcw.org/tickets.