Let's get this out of the way right off the top. Yes, Miss Pixie's Backroom Palace is the storeroom of the fantastic Miss Pixie's "furnishings & whatnot" shop on 14th Street where you stand an even chance of finding a classic antique fainting sofa or funky mid-century coffee table or random garden gnome. But this is a storeroom after an entire team of fairy godmothers have gotten their hands on it. Now more underground cabaret club than holding area for homeless Queen Anne chairs, the creative minds behind Ganymede Arts have turned what some would see as lemons into a perfect lemon-drop martini.
Would you want to pull up one of the dozens of mismatched chairs or benches to see, for example, a production of King Lear at the Backroom Palace? Probably not. (Well, okay… maybe.) But After the Garden: Edith Beale Live at Reno Sweeney is not King Lear. It's a unique little cocktail that's equal parts drag show and cabaret, comic monologue and — and this is where it will take you completely off guard — a bit of a tragedy.
It's Queen Lear.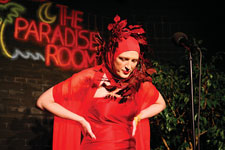 Jeffrey Johnson as Edith 'Little Edie' Beale
After the Garden is not a completely fictional invention. For one week in 1978 Edith Beale (as in the "Little Edie" Bouvier Beale many have met through the documentary film Grey Gardens or the Broadway show of the same name) performed at the Reno Sweeney nightclub in New York City. She was booked as something of a curiosity, an entertaining though not necessarily talented woman capable of filling the room based solely on her own peculiar fame.
Writer Gerald Duval, who was Edie's manager and producer for the Reno Sweeney shows, has mixed things that Beale actually said during her performances with created dialogue intended to give the character more shape and the play a bit more history. It's a clever, almost freeform approach that perfectly suits the single performer format. (A quick aside: there are other performers involved in After the Garden but the show and story is wholly and entirely Beale's.)
True to the cabaret style, Beale (Jeffrey Johnson) sings a bit, engages the audience in meandering trips down memory lane, and even arranges a hotel reservation from the stage. If you are completely unfamiliar with Edith Beale or her story, you'd do well to take your own advance stroll before heading to the Backroom Palace. To not do so (and we're not talking slavish research here, simply a few Google hits) is to fail to see how spot-on Johnson's performance as Beale truly is. From his makeshift evening gown to his question-mark posture, Johnson is not engaged in mere imitation. He is attempting to bring Edith Beale back to life.
Worse than failing to recognize the hard work that Johnson has put into the role, those who do not know the documentary or the musical risk seeing the enigmatic and utterly uninhibited Beale only as some sort of drunken drag cartoon. (Michael Korie, the lyricist for Broadway's Grey Gardens, told the PBS program Independent Lens that when he first watched the documentary, he saw a Tennessee Williams-meets-John Waters production.)
AFTER THE GARDEN: EDITH BEALE LIVE AT RENO SWEENEY
To March 29
Miss Pixie's Backroom Palace
1626 14th St. NW
$25
www.ganymedearts.org
After the Garden is a party and Johnson's Beale is the life of that party. The show is funny and candid and full of brilliant comedic writing.
But there is also a full-bodied sadness here. To tell the story of Edith Bouvier Beale, Ganymede Arts is not just pouring endless rounds of brightly colored cocktails. They are telling a story of loss and betrayal and failed hopes. Or, perhaps more accurately, delayed hopes.
After all, Beale is — deservedly — still filling the seats at Reno Sweeney.