Spend just a few minutes watching the news and it's hard not to see a horizon filled with anything but storm clouds. Wall Street is burning, the globe is melting and the flu is getting resistant. The zombie apocalypse should be starting any second. Wait for it….
Still, that's no reason to live in a dump, mister. And don't think it doesn't matter, either. While you should always find a little bit of your salary — or unemployment check? — to tuck away, don't go thinking you're doing yourself any favors by letting your abode become as depressing as the economy.
"Your interior design has tremendous impact on your daily life," says Chad Alan of Chad Alan Designs, while emphasizing the merits of frugality. "Pay your rent! But even in a bleak economy, it can make a difference on your outlook, absolutely. Who wants to look at pilfered milk crates every morning?"
That said, brightening up the home front might not be as expensive as you might suspect. Access to interior-design help is not some special perk for the rich alone. Even on a budget, you can go further than a HGTV marathon or a subscription to Domino.
Starting small, try Ed Rudock, the Florida transplant behind Spacelift, for which he serves as owner, designer and "stager."
"I go in and take a look and see what a client's got," he says of the initial — and free — consultation. "One thing people can do is take a look around the house and see what they have, what they like. Use that as a foundation and build on that. Sometimes all you need are a few items to augment."
Having the professional eye definitely helps when you're trying to pull off the low-budget enhancement. And you'd better get it right the first time, because you certainly don't want to pay for more paint, different pillows or another coffee table.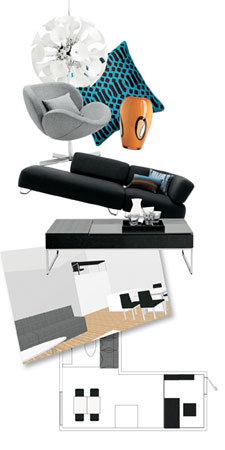 "It's a myth that you have to paint a small room a light color or a big room a dark color," says Rudock with professional confidence. "Paint it whatever damn color you like — but use an inspiration point. Maybe it's a pillow you bought in Korea. Just as long as it's something you really love."
During your consultation, tell Rudock what you love, and he can build around it for $90 an hour. The interior-design plan for most condos or small homes comes in at easily less than $500, with a road map to savings with you doing the labor and pricing your own materials.
Another option to consider is the design service offered by retailers. At BoConcept, for example, with local shops in Georgetown and Tysons Corner, an in-store consultation — right down to the 3-D rendering if you bring measurements — is free. Get one of their professional designers into your home for a full interior-design consult, and the charge is $50. Buy anything from BoConcept and that $50 is applied to your purchase, making the design service free. Consider also that during March, the chain is fighting the bad economy with a 10 percent discount on purchases of $5,000 or more.
Gay-fave Mitchell Gold + Bob Williams on 14th Street NW runs a similar service. A $200 deposit gets you a complete, in-house consultation. Make a purchase of $2,000 or more and that deposit is applied. Don't forget to check on the discontinued bargain items.
If you do decide to take matters into your own hands, which may be better than doing nothing at all, Alan offers some advice gratis: If you choose to fight the news of the day with a sunshiny palette, exercise caution and opt for something a bit softer and earthy.
"Stay away from eye-popping, citrus-y colors," he warns. "They're cheery. But when you paint a whole room cheery peach, it turns into traffic-cone orange."