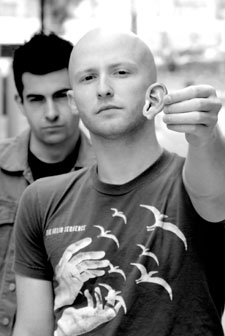 "Brian Barrera (L) and Mikey Adolphson
On any given night, Mikey Adolphson thinks Cobalt is too bright. That is, on any given night except the fourth Saturday of the month, when Adolphson has started the new party Shift, a co-promotion with Brian Barrera.
"We basically turned down all the lights, all over the entire bar, upstairs and downstairs," says Adolphson, who serves as the party's resident DJ under the moniker Mhajr. The music, he says, "has a lot more edge to it," the goal being to offer "the best of indie-rock, electro and pop that you don't hear anywhere else."
Last month's debut packed Cobalt to the gills. This month's party, on Saturday, March 28, will feature a guest DJ stint by Shea Van Horn, host of the regular local parties Mixtape and Crack, who will open for Mhajr.
Adolphson, who grew up in Baltimore and rural Virginia, was inspired to start Shift after attending similar parties in Orlando and Chicago. "They were very glam and garage at the same time," he says. The 26-year-old is currently finishing his communications degree at George Mason University, where he also teaches communications theory.
This Saturday's event also serves as the kickoff to what is being billed as Lady GaGa Week in D.C., culminating with the singer's sold-out shows next week at Nightclub 9:30. Adolphson isn't exactly a fan of GaGa's, but he's happy to play a few of the better tracks from her debut album, The Fame. "It's not so much about rising above the status quo of pop music," he says. "There is quality in every genre that is danceable, and that's what we're going for — danceable, quality junk."
The ultimate goal, says Adolphson, is "to pull in anybody who wants to come." They have a female bartender at every party, and the male bartenders generally keep their shirts on.
"We're trying to be as open as possible," says Adolphson.
Shift happens this Saturday, March 28, from 10 p.m. to 3 a.m. at Cobalt, 1639 R St. NW. Cover is $5 after 11 p.m. Call 202-462-6569 or visit www.cobaltdc.com. For more information on Shift, visit www.shiftdc.net