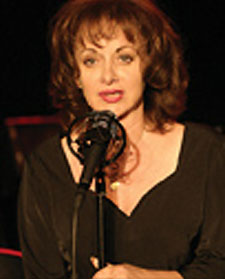 Jil Aigrot
Jil Aigrot has become known for singing as Edith Piaf. So perfect is her Piaf, she was tapped to voice the singing portions of the 2007 biopic, La Vie en Rose. But Aigrot says her life is little like that of the late French legend, known for hits including "Non, Je Ne Regrette Rien" and "La Foule."
"Piaf was troubled, and I'm not troubled," says Aigrot, quickly adding, "Well, when I'm on stage and I have to speak English to the audience, then yes, I am troubled."
Aigrot, who was born in Algeria but grew up and still resides in Cannes, France, is currently on her first tour of the U.S. She's promoting her debut album, Words of Love, an homage to Piaf released last year.
Ginou Richer, Piaf's confidant and personal secretary, discovered Aigrot at a book signing four years ago. Aigrot knew nothing of La Vie en Rose at that time. Richer asked Aigrot to sing a song for her. "I have not heard anyone singing like that for 40 years,"' Richer responded and gave her name to the filmmakers, in need of a singer to overdub for Marion Cotillard, who won the Oscar for Best Actress for the part.
Aigrot sings a few Piaf songs in English in addition to the standard French repertoire. "I try to sing them in English," she says, "but it's not easy for me."
Jil Aigrot performs Saturday, March 28, at 8 p.m. at Lisner Auditorium, George Washington University, 730 21st St. NW. Tickets are $20 to $35. Call 202-994-6800 or visit www.lisner.org.