Sometimes you should absolutely judge a book by its cover.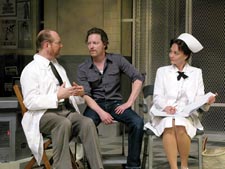 'One Flew Over the Cukoo's Nest'
The moment you take your seat for Round House Theatre's One Flew Over the Cuckoo's Nest, you'll feel a curious sense of discomfort and unease. Maybe it's the hum of the hospital ward set's fluorescent lighting. Perhaps it's the dull nausea of the tiled walls. Maybe it's the worn furniture that calls to mind down-at-heel yard sales.
Daniel Conway's setting creates a mood as palpable as the antiseptic smell of a hospital. It's a haunting prelude to an adaptation that, while written in the early 1960s from the Ken Kesey novel of the same time, is remarkably contemporary. After all, we are living in a time when illness is something of a status symbol and an entire creative genre has sprung up around declaring one's infirmities to the world. Director Jerry Whiddon is also bringing Nurse Ratched (Kathryn Kelley) and the gentlemen of the ward to the stage at a point where we seem more frequently asked to question the line between sanity and insanity. Between what is normal and what is abnormal.
When Randle P. McMurphy (Matthew Detmer) arrives in Nurse Ratched's institutional ward, he thinks he's finding an easy way out of his work camp sentence. He is, after all, perfectly sane. He's also a strong personality with a rebellious streak that not only places him in direct opposition to Ratched but positions him to be leader of the institution pack. And while we have been, as audiences, conditioned to cheer for the rebel who will surely prove the freedom and strength in breaking the rules, Cuckoo's Nest doesn't let us walk away so cleanly.
As actress Natascia Diaz noted in her acceptance speech for the 2009 Helen Hayes Award for Outstanding Lead Actress in a Resident Musical (an honor she shared with Chita Rivera), one of the interesting elements of the DC theater community is being able to watch area actors move from play to play and transform from one character to the next. What is striking about Cuckoo's Nest is how completely the actors playing patients have crafted their roles.
More importantly we are seeing carefully constructed and developed character studies and not mockery or haphazard caricatures. Michael Nichols plays Chief Bromden with a quiet gentleness that belies his physical appearance. Matt Farabee's take on young Billy Bibbit is as truthful as it is heartbreaking. Even John Lescault, in his portrayal of the fey and comical Harding, holds back when necessary, measuring things out in a successfully surgical fashion.
Detmer's muscular risk-taking is cleverly balanced by Kelley's controlled and controlling Nurse Ratched. They're an excellent pairing that anchors a truly well choreographed ensemble.
Round House's One Flew Over the Cuckoo's Nest is a book that truly lives up to its brilliantly designed cover.
What does one say about a jazz-infused musical, based on a series of stories by a late-19th/early-20th century Japanese writer, that includes a psychic, a janitor, a priest, a miracle-seeking CPA and musical notes that hang in the air like so many unanswered questions?
ONE FLEW OVER THE CUCKOO'S NEST

To April 26
Round House
$25-$60
240-644-1100
No, that's not rhetorical.
That's a description of Michael John LaChiusa's See What I Wanna See, now at Signature Theatre. Directed by Matthew Gardiner, this deceptively intricate chamber-like musical brings together the talents Bobby Smith, Tom Zemon, Matt Pearson, Channez McQuay and Rachel Zampelli, each taking on multiple roles. Played out over the course of three seemingly unconnected vignettes, See What I Wanna See takes the audience from old world Japan to a film noir New York to what we are led to assume is the city in the months just after 9/11.
While the strength of the cast is undeniable, the true star of this show is the music, which goes in unexpected and haunting directions. Zak Sandler, who conducts the orchestra and handles piano duties, brings a lively, freeform quality to the performance. It allows for moments where the instrumentalists feel completely integrated into the movement and design of the show and not simply the anonymous crew behind the screen.
---
SEE WHAT I WANNA SEE

To May 31
Signature Theatre
$49-$77
703-820-9771
Signature has done a good deal of work to make the ARK a wonderful little theater lab for Washington-area audiences. See What I Wanna See feels almost a counterpoint to the MAX space's rock star and much Helen Hayes Award honored Les Misérables.
It's not quiet, but it's intimate. Not simple, but understated and elegant. And it's suitably complex that you may well wonder if what you saw was what was what you saw or was it simply what you wanted to see?
On May 13 area stages were dark as actors and directors and theater lovers headed to the Warner Theater for the 2009 Helen Hayes Awards. As mentioned, Signature Theater was well represented with 10 awards including Outstanding Resident Musical and The Canadian Embassy Award for Outstanding Ensemble for Les Misérables. Theater J scored their first Hayes with The Charles MacArthur Award for Outstanding New Play for Honey Brown Eyes, while Shakespeare Theatre Company's Twelfth Night tied with Studio Theatre's Blackbird for Outstanding Resident Play.
But the moment to remember might be Deidra LaWan Starnes, who took the honors for Outstanding Lead Actress in a Resident Play for her role in Intimate Apparel with African Continuum Theatre Company (another tie, with Lisa Joyce from Blackbird). It was the reminder moment. A reminder of just how many outstanding plays and companies and actors the D.C. area is fortunate enough to enjoy. Big houses. Little houses. Temporary houses that seat 20 on a good night. Take advantage.
After all, you never know when you're going to stumble across the next Helen Hayes Award winner.