It's been three years since Dan Brown's wildly popular novel, The Da Vinci Code, jumped to the silver screen, angering the Catholic Church with its controversial topics. The wait for more is over, and while church leaders have less to take issue with in Angels & Demons, audiences certainly have more than enough reason to complain.
Much of the original team is back for the second installment, including director Ron Howard and screenwriter Akiva Goldsman, who is joined by David Koepp (Indiana Jones and the Kingdom of the Crystal Skull). The three make liberal changes to Brown's novel, which originally came before The Da Vinci Code, and re-craft it to continue the tale of Dr. Robert Langdon (Tom Hanks) and his never-ending quest to dissect the church and its symbols. Langdon is part academic, part stud; he's supposed to be brain and brawn all rolled into one.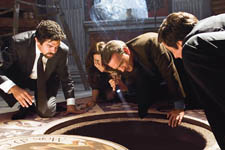 Angels and Demons
Though Langdon made an enemy of the church in his first adventure, now he's helping them in their quest to fight a newly reemerged enemy, the Illuminati. This secret society, supposedly with alumni such as Galileo and Bernini, represent the opposing side of the church vs. science debate. They are men of this earth, not men of faith. Howard makes this point clear by quickly juxtaposing the pomp and circumstance of a pope's funeral with the cold, sterile environment of a lab.
When the killings start and the four most likely to become pope are kidnapped, a call is made to Langdon. Apparently, he's the one to turn to when a 12-hour doomsday clock starts to tick, but it's only one of many, many plot points that strain credibility to the point of snapping (like Tom Hanks as an action star, but more about that later). Joining forces with the beautiful scientist Vittoria Vetra (Ayelet Zurer), Langdon crisscrosses Rome looking for a canister of antimatter that could blow Vatican City to kingdom come. His only friend in the matter might be the deceased pope's right-hand man, Camerlengo Patrick McKenna (Ewan McGregor). It's a countdown to midnight to see if science and murder can overcome symbols and faith.
At its core, there is a great challenge in making one of Brown's novels into a film. His books are based on so much research that there is a mountain of background material needed to explain the context of the plot. Brown has figured out how to conquer this challenge; Howard has not. For Howard, it means having an in-depth dialogue between two characters who are supposedly rushed for time. Angels & Demons becomes a series of "hurry up and pontificate" scenes that cause an already long film to feel bloated. Add to this an odd sexual tension that Langdon exudes towards Vittoria in the most inappropriate situations, and the fact that they never run when trying to save a life, and you have a poorly paced film.
The best thing that can be said about Hanks in Angels & Demons is that he has a better haircut than he did in The Da Vinci Code. Despite the opening scene of Hanks in a Speedo to demonstrate his virility (there is never a need to see Hanks do a flip turn in a tiny bathing suit), he's just not right for this role. He's whiny when he's supposed to be forceful and he's ridiculous when he's acting the part of genius. There are so many "a-ha" moments that come out of the blue, it's laughable. Thankfully for Hanks, Zurer is so bland that she doesn't upstage him. McGregor does a slightly better job as the Camerlengo, but it's a low bar to be the best in this film.
At over two hours, the film drags on to the point where reading the book might seem like the time saving option. Howard does a poor job of creating tension, relying mostly on slow pans across sinister-looking men as Hanks and Zurer walk through crowds while trying to stop the killings. The movie features more clocks and time updates than an hour of 24, but Howard would have been well-served to watch an episode to see how they use it to heighten fear rather than remind the audience how much is left still to go.
ANGELS & DEMONS

Starring Tom Hanks, Ewan McGregor
Rated PG-13
138 Minutes
Opens May 15
Area Theaters
In the midst of all the rubble, Howard does manage to do a couple things well. The special effects are quite complex and the gore factor is surprisingly high for the film's PG-13 rating. One particular sequence is remarkable, more for its enthusiastic destruction rather than its seamless place in the film. Scenes of the multitudes of cardinals are beautifully shot, making great use of their scarlet robes, and Howard plays with light in interesting ways to bisect characters into light and dark sides.
But these few atonements don't make up for the rest of the film's sins. With Brown's next novel due out this summer, it's an omen that we haven't seen the last of Langdon yet. Pray he leaves the Speedo home next time.