Bill Gray is happy to have stirred up a bit of mystery surrounding the future of the bar at 1318 Ninth St. NW. "I get a lot of people asking, 'Are you closing for good? What are you going to do now?' I have to clarify some things, but I'd rather be like, 'Yeah, it's closing. This is it."'
Be Bar will, in fact, closes this Saturday night, May 9, going out with a Studio 54-themed bash. But the space will remain closed for only one week, when a quick remodel will usher in the grand opening of EFN Lounge and Motley Bar.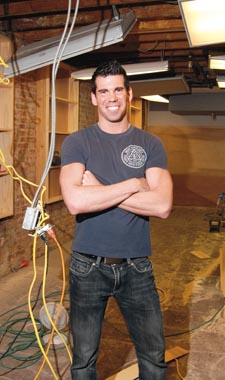 Bill Gray: EFN Lounge
"We just decided we needed to start fresh," says Gray, who came on board in March as Be Bar's co-owner with Tom McGuire, and its general manager, replacing Mike Watson. Gray had been one of Town's most popular bartenders, but he decided it was time to get beyond just slinging drinks.
"I started looking at the clock — I'm getting up there in age," he says. "I'm 33 now, but I've been bartending since I was 17."
The new name of the venue should be read, not spelled, Gray helpfully advises. Telling someone where you're going can now become a deprecating declaration: "Let's go to the EFN Lounge!" McGuire came up with the name Motley Bar for upstairs, a floor previously underutilized. No longer a space for VIPs — they've done away with that policy altogether — upstairs will feature a pool table and beer busts, among other basic bar offerings.
It's not just the new name, then, that is night-and-day opposite the old. The space itself will be "something that is darker, a little edgier" than its Lite-Brite predecessor. Gray says the remodeled space will call to mind a rugby pub with a "nice design," and the primary focus will be on good customer service.
Each night at EFN Lounge will bring a different theme, from service-industry night on Mondays to a lesbian party on Wednesdays to a new Sunday party called Sanctuary. And that's just the start of Gray's seemingly bottomless bucket of ideas.
Gray sees a different target market for EFN: older — it's now strictly 21-and-up — and a little grungier, or at least less uptight. "Maybe our martini drinker won't feel as comfortable here with his pinky in the air," laughs Gray. "Maybe it'll be more that tattooed hairdresser or rugby player who wants to come in and have a beer."
EFN Lounge and Motley Bar's grand opening takes place Friday, May 15, through Sunday, May 17. Saturday, May 18, brings a special party with DJ Joe Bermudez from Boston. EFN Lounge is at 1318 Ninth St. NW. Call 202-341-8281 or visit www.efnlounge.com.