"She was so much more outrageous than I would ever think of being," says Valerie Harper of legendary actress Tallulah Bankhead. "She would make Rhoda blush, too, I think." Rhoda, of course, being Rhoda Morgenstern, the character Harper earned four Emmy Awards playing on The Mary Tyler Moore Show and then on its own spinoff.
Rhoda and anyone offended by bad language and adult themes should avoid Harper's latest project, Looped, in which she portrays Bankhead, the bisexual star of stage and screen from the first half of the 20th century.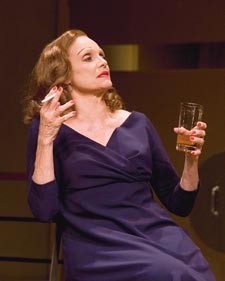 Valerie Harper as Bankhead in 'Looped'
"It's a very wonderful comedy," says Harper, "with real emotion and fireworks." Based on a real-life event, the play centers around a studio "looping" session with Bankhead. An uptight editor is trying to get one line of usable audio from Bankhead. "It takes all day to get it because she's doing so many other things," says Harper, "such as drinking and smoking and taking cocaine."
"It's an acting challenge to create this particular person," Harper says. "Tallulah has been parodied so many years by so many female impersonators. It's my job to find the truth in there. To make it a human being, not a comment on a human being."
Harper recalls watching Bankhead on television. What strikes Harper now about Bankhead was just how witty she was. "I remember her being glamorous, and this big star and outrageous. But I didn't know how funny she was."
Bankhead died in 1968, just as Harper's career was taking off. It's still going strong: Harper, 68, intends this summer to shoot a pilot for a new television series, as well as to star in an independent film. She's also scheduled to serve as a celebrity grand marshall at this year's Capital Pride Parade. Harper, it turns out, is an incredibly enthusiastic supporter of gays and gay rights.
"You know the old bromide, 'Some of my best friends are gay'? Well, it's true! It's always been true with me!"
Arena Stage's Looped runs May 29 to June 28. At the Lincoln Theatre, 1215 U St. NW. Tickets are $25 to $74. Call 202-488-3300 or visit www.arenastage.org.