Few things inspire envy like a well-appointed kitchen.
From drawers brimming with specialized gadgets for every conceivable function, to gleaming stainless-steel appliances to a hanging pot rack laden with high-end cookware, for those who love to flex their culinary skills the temptation is always there to buy the latest and greatest tools available.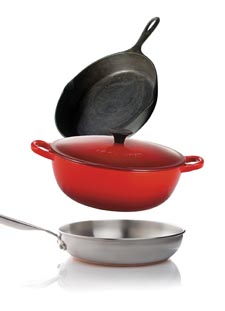 That means every foodie has the potential to go nuts at Williams-Sonoma and Sur la Table. But not everyone who loves to go gourmet with home cooking has the money — or the space — to go wild with equipment. That's especially true when it comes to pots and pans, which provide basic building blocks for cooking: the application of heat to ingredients to make a wonderful and tasty meal.
An easy way to save on both money and space is to focus on a small number of pans that offer the most versatility in use.
Chef Patrick Vanas, the culinary mind behind D.C.'s Patrick Vanas Events, trained using every type of pot and pan, but during his daily cooking at home and for friends — "always trying creating new things" — he's found three that he couldn't live without.
First is a Dutch oven, a large, heavy-duty pot with a lid, which can fulfill a dizzying array of kitchen tasks.
"The Dutch oven can be used for boiling water for pastas and blanching vegetables, for making a nice slow-cooked tomato sauce, for braising veal shank for osso bucco, or even for deep frying," says Vanas.
Among the best known brands of Dutch ovens is Le Creuset, a name that carries a premium — a 7.5 quart version can sell for nearly $400. While the enameled cast-iron cookware will last for years, Vanas recommends anyone hoping to save money on the purchase keep other options in mind.
"I found mine in a flea market for $25," he says. "I've had it for over 10 years and it still looks the same."
Another bonus for a good quality Dutch oven is that it can easily move from the stovetop to the oven for pot roasts and other long-cooking recipes.
Vanas' second must-have is the basic medium-sized sauté pan for frying of items or sautéing of vegetables — it's definitely a go-to pan for everyday kitchen tasks.
"It's great for everything from grilled cheese to Thai curries and pan-seared steaks or fish or any breakfast egg dishes."
The basic sauté pan comes in wide variety of materials and finishes, though if you're looking for a pan that can perfectly sear a steak you'll want to stay away from the non-stick finish. Vanas prefers a stainless-steel sauté pan: "It can go right in the dishwasher and come out looking brand new!"
The third member of Vanas' trio is the tried-and-true cast-iron skillet. Kept well-seasoned, it's every bit as versatile as other pans, but brings a distinct flair and taste to everything from steaks to eggs to cornbread to pancakes. Vanas also notes a unique bonus technique that gets even more use from your investment: "Turn it over and grill vegetables in the winter."
While you shouldn't fill out your own trio of pans from the ultra-low priced items at the discount store, you also shouldn't worry about spending major bucks on top-of-line brands. Although Vanas loves All-Clad, he "would not suggest a costly high-end brand name for any pot or pan if you do not have to." His own daily-use pans are "middle-of-the-road if not on the cheaper side," and look great after more than five years of use.
He also recommends looking for handles that are comfortable for regular use, as well as finding a balance in a pan that's heavy enough to promote even cooking, but not so heavy that it will completely tire you out.
By focusing on these multipurpose and flexible items you'll save yourself a lot of space and a lot of money — maybe even enough to someday justify that crepe pan you've had your eye on.
For more information about Patrick Vanas Events, e-mail patrickvanas@yahoo.com or call 202-294-4138.