When the June/July issue of The Advocate magazine featured "Forty under 40," an exhaustive list of young GLBT people, running through the worlds of business, activism, entertainment and other categories, some of the names were household: Dustin Lance Black of Milk fame and MSNBC's Rachel Maddow, for example. Most names, even in gay households, were not.
Aisha Mills falls into that second group.
"I've been a behind-the-scenes girl, not the front-liner," says Mills, 31, who lives in Columbia Heights with her PR-professional domestic partner, Danielle Moodie.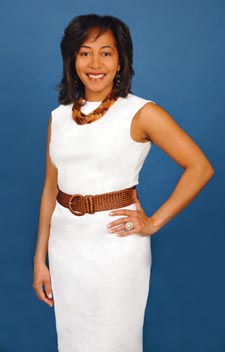 Aisha Mills
Behind the scenes, however, Mills has already accomplished plenty, from Democratic fundraising in the millions, serving as the executive director of the Congressional Black Caucus PAC, and launching her own D.C.-based consulting firm, Synergy Strategy Group, in 2006. Not a bad start.
"I think my 30s are really going to be about me being more engaged and involved," says Mills, who credits much of her success to the grandmother who raised her, who has since died. With her birth parents conceiving her when they were barely adults themselves, Mills says it was something of a bittersweet blessing that left her to be raised by her paternal grandparents.
"They were born in the 1930s, made it out of the impoverished South," says Mills, pointing to Willingboro Township, N.J., the predominantly African-American, working-class suburb of Philadelphia where she was taught by her grandmother not to just get by, but to excel. It was the only choice she was given.
"My grandmother was an electronics engineer at Lockheed Martin. She taught herself how to do this stuff," Mills says, still impressed all these years later. "Those are the types of people I come from: hard-working, ambitious, wanting something more. My grandmother was cantankerous at times, but she was someone who gave me no choice but to succeed. She always had high expectations of me. Â… She was a very strong-willed woman, the matriarch of our family. She taught me how to be strong-willed. 'If you don't stand for something, you'll fall for anything.' My courage and confidence come from her.
"The moral of the story, really, is that the best thing that ever happened to me, I believe, was someone making that decision to let my grandparents raise me."
Whether it was her grandmother's guidance or something innate, there's no mistaking the winning mix of confidence and charm Mills exudes. Coupled with her ambition, she gives the impression of being a nearly unstoppable force. That she also holds a psychology degree from the University of Maryland helps her to move effortlessly, it seems, among wildly disparate milieus — likely raising a dollar here and there when appropriate.
"I came to this region because I was going to be a child psychologist. I was going to save the babies," she says with a laugh, though admitting that psychology certainly comes in handy in every situation. That's meant everything from enjoying champagne and caviar on a private jet with Sen. Harry Reid (D-Nev.) and one of the nation's wealthiest trial attorneys when she was just 26, or speaking to classrooms of at-risk, inner-city kids.
"I know myself pretty well. What's key to making people comfortable is that I'm very comfortable with myself. I've always been even-keeled, secure, whether that's as a lesbian, a black person or straddling class levels. I hate to call myself a 'chameleon.' It's more that I resist being categorized. I don't fit in a box. I just am."
While studying psychology, however, Mills says she came to realize she had a greater gift. Working with adolescents as part of her coursework, she recognized an affinity in herself for helping them learn how to be resilient, how to become the people they hoped to grow into. It was the way that she cared about those young people that brought her to a bigger-picture awareness, an empowering realization.
"I've always had an opinion. I care about people, particularly poor people. I really care about the systems that dominate their lives — health care systems, Social SecurityÂ…. Someone is making up the rules for these systems. I thought, 'I need to make up those rules.' And I came to love policy and politics."
Some credit for Mills' move to politics must go to Wanda Alston, the first permanent D.C. mayoral liaison the GLBT community, murdered by a drug-addicted neighbor in 2005. Mills was lucky enough to have met Alston a few years prior to her tragic death, luckier still that Alston took an interest in her career.
While Alston would help point Mills in the direction of her future, she also helped her more deeply embrace her sexual orientation. For while Mills didn't consider herself closeted, she wasn't exactly out, either. It was more of a gray area, as she describes it, where she knew she was a lesbian, but saw no reason to announce it perpetually, feeling as though that was a plea for approval. And the approval of others is not the sort of thing that sits at the top of Mills' shopping list.
Alston took stock of Mills' outlook and talents and made up her mind: "'Girl, you need to get involved in politics.' She called up Donna Payne [of the Human Rights Campaign] and said, 'I want you to meet Aisha.' That's how I got involved.
"She taught me at a really critical time how to be comfortable in my skin as a lesbian. She'd be proud. She'd be kicking me in the butt, but she'd be proud."
Later, when she was working for the Congressional Black Caucus, Mills decided to return to the University of Maryland and earn a master's degree in business. It was the tool she needed to launch Synergy.
With this new company, Mills says she hopes to help progressive and innovative companies connect with the resources they need — whether that's funding or a few minutes of a congressperson's time. She's also armed with a new fervor for advancing GLBT equality, particularly marriage equality.
Michael Crawford, a founder of DC for Marriage, a program of The DC Center, Washington's GLBT community center, working for marriage equality, met Mills about five years ago when they were both at HRC. He says Mills will be a valuable player in this fight.
He readily recalls his first impression of a young Mills at HRC headquarters: "Forceful and charming, dynamic. And she really gets it."
Fast-forward to today, and Crawford is thrilled about Mills' interest in marriage equality.
"It means we have a super well-connected African-American woman who wants to joint the fight," he says. "She's pretty amazing. Political strategy, outreach, public speaking — she's really good at a lot of things."
For gay Washingtonians who were not familiar with Mills before her Advocate honor, buckle up. With her newfound focus on the community, it may not be a bumpy ride, but it could move along at breakneck speed.
"I'm excited just to be doing the progressive, political work," Mills says. "And I'm looking forward to being a little more vocal with some of the things happening in the gay community. We are living history right now. Sometimes I have to remind myself that this didn't just happen overnight. It's really sweet and humbling to know that we're living in historic times. I want to do what I can to pick up the reins and keep it moving."