Adam Bock's Five Flights features a gay love story — but that's just one of several subplots.
"Instead of having it be the central issue, they're just members of the world, just part of the story," Bock says of his play's gay characters, specifically the relationship between a brother and a hockey player.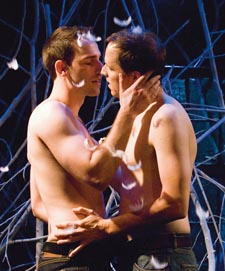 FiveFlights: Danny and Eric
(Photo by Bruce Robey)
"It's just so fresh how it treats the gay love story," says Paul Douglas Michnewicz, artistic director of Theater Alliance, currently staging the work at the H Street Playhouse.
"To the people in the play, it's really quite irrelevant that they're gay. They're all just sort of rooting for the guys to find happiness. It's never a question if they should or could or how or anything like that. It's just, 'Is it going to work out?' Just like any straight relationship."
Five Flights focuses on siblings debating what to do with their recently deceased parents' aviary. "It sounds pretty grim, bit it isn't," says Michnewicz. "It's very funny."
Bock, a native of Canada living in New York, is now working on two new plays, including his first musical, featuring a score by composer Todd Almond. The prestigious Yale Repertory Theatre is set to premiere the musical, an adaptation of a Shirley Jackson novel, We Have Always Lived in the Castle.
Bock's style is to write the way people talk. "I'm interested in the music of [spoken] language," he says. Michnewicz says Bock's "use of language is pretty extraordinary. He writes the way people talk — it's fragmented, it's broken, it's non-linear. It's just a beautiful way to see their thoughts progress."
Five Flights runs through June 28 at the H Street Playhouse, 1365 H St. NE. Tickets are $30. Call 866-811-4111 or visit www.theateralliance.com.