"I'll never forget this moment the rest of my life," a beaming RuPaul shouted last Sunday from the Capital Pride main stage. With the Capitol dome behind him, the nation's most famous drag queen extended his arms and closed his eyes, savoring the moment.
But it was more than a moment. This year's Capital Pride offered more than a week of savoring. The city was gayer than ever, with upwards of 250,000 people attending Sunday's festival on Pennsylvania Avenue. It was the largest turnout for Pride in years, according to Dyana Mason, director of Capital Pride. And with more than 130 contingents in Saturday's parade, including many more floats than in years past, "there was a lot more to watch," Mason says.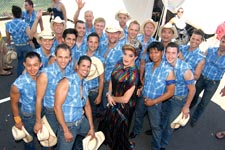 DC Cowboys
Perhaps anticipating RuPaul's exhortation to the crowd to mentor young gays — "Tell them who Judy is" — Freddie's Beach Bar took the Tina Turner Award for best overall float for their recreation of The Wizard of Oz. The newly reopened Ziegfeld's/Secrets won the Cher Award for its float, which Pride organizers deemed the best at incorporating this year's theme, "Generations of Pride: Celebrate and Remember." Other parade awards went to Results Gym for best marching contingent, Lesbian & Gay Big Apple Corps Band for best visiting contingent, and D.C. Leather Contingent for most outrageous.
Police officers from around the region led the parade — a sign of how far the gay rights movement has come in the 40 years since police raids on New York's Stonewall Inn fueled it. Among the corporate sponsors, elected officials and plethora of gay-affirming religious marching groups, a large contingent of gay parents and their children from Rainbow Families DC garnered nearly as many cheers and joyful tears as the parade's perennial favorite, Metro DC PFLAG.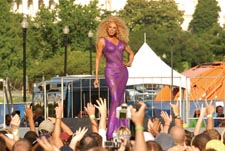 RuPaul
Sunday on the Festival main stage, John Berry, director of the Office of Personnel Management and the Obama administration's highest-ranking openly gay appointee, gave an impassioned speech with greetings from President Barack Obama. He itemized the president's agenda on gay issues, which he said includes repeal of the homophobic Defense of Marriage Act, despite the Department of Justice's recent and controversial court filing in support of DOMA.
"Before the sun sets on this administration, it is the goal of this president to complete this agenda and fulfill the promise of equality to all Americans," Berry said.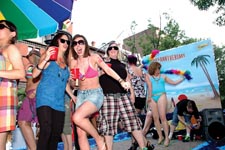 Phase One
All told, the weekend went off without a serious hitch, says Michael Lutz, president of the Capital Pride board. "I didn't have to call the insurance company and I didn't have to call the lawyers, so I'm a happy camper," Lutz says with a laugh.
To see hundreds of more photographs from this year's parade and festival, please visit Metro Weekly's Scene: Special Pride Section.