Generally, when reading a theater review in Metro Weekly, you don't see Many "I" statements.
"I liked this."
"I didn't like that."
"I had trouble staying awake."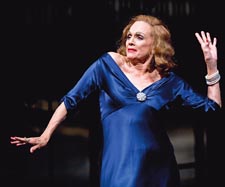 Looped
(Photo by Scott Suchman)
But sometimes one just has to break the rules, no matter how small or relatively unnoticed those rules may happen to be.
And so, this review of Looped at Arena Stage will begin in a slightly different fashion.
I am baffled, without exception, by the phenomenon of pre-applause. That boisterous burst of sheer excitement that occurs for no other reason than a particular actor has taken the stage. Think Angela Lansbury, Chita Rivera or Patti Lupone. The lights go up, they walk out… and bedlam.
Happy bedlam, but bedlam nonetheless.
This is the case when Valerie Harper makes her first entrance as bawdy bad girl Tallulah Bankhead. It is, make no mistake, an entrance to be appreciated but, for those of us who appreciate the superstition that the theater breeds, who do not say the name of the Scottish play or wish any performer anything other than the breaking of a leg or two — pre-applause is disconcerting.
After all, what if that entrance is the last thing to warrant applause?
Superstition be damned, that is not a problem with Looped, a scathingly funny, deliciously inappropriate and, more surprising than anything else, play gifted with a delicate and touching soul. Sometimes, the saying goes, you have to laugh to keep from crying. Try to fight either as hard as you can. You will end up doing both.
The play is one of those wonderful pieces grown out of the thinnest of ideas. Bankhead must go to the studio to re-record — or loop — a single line of dialogue in a film project. One line.
This single line becomes the roots of a story that spread broader and in more surprising directions than could be imagined. Unless it is being imagined by playwright Matthew Lombardo, who takes the larger than life persona that was Tallulah Bankhead and gives her razor-edged wit, boundless personality, and just enough grace and sadness that the character retains the real woman's humanity. She is a legend, but a living legend. A person enveloped by a personality.
Bringing Looped's Bankhead gloriously to full-throated life is Harper. Whether you applaud her entrance because you see Rhoda Morgenstern or Golda Meir (who Harper played in the one-woman show Golda's Balcony), give this actor proper time and attention. Harper has achieved that most difficult of feats. She has lost herself in this fantastic character.
Her deft skill as a comedienne shines as she pushes the limits, but she resists the urge to fall into cartoon and caricature. Sure, there is a slash of red lipstick where a mouth should be. Yes, her Tallulah is a never-ending geometry of angles and hip and elbows. Indeed, there is a drawl that is deliciously pulled from somewhere south of her feet. But it is executed in such an organic fashion, you fall more than a bit in love.
Harper is joined onstage by Joe Goede as Danny Miller, a video editor tasked with getting Bankhead to make the recording. Of one line.
Just one single line.
To say Goede is playing the straight man to Harper's Bankhead is somewhere between telling the truth and missing the point. Of course Goede's Miller is not inflated with the myth of Hollywood, but he is more than counterpoint. Goede is anchor. Solid, thoughtful in his craft, deliberate in his decisions.
And, like Harper, Goede shows that he is unafraid of taking some risks with his performance. He avoids what could become very easy and one-dimensional and instead dares to offer an individual who is actually quite frustrating. It makes Miller a character to be believed. To be embraced. To be remembered.
Talk is, of course, about Arena Stage's new tethers to Broadway and that highest of ambitions, the Tony Award. Carrie Fisher's Wishful Drinking, 33 Variations and Next to Normal all left Molly Smith's house for a place on Broadway. Next to Normal took three Tony Awards including Best Orchestration, Best Score and Best Lead Actress in a Musical went to Alice Ripley. Best Scenic Design of a Play went to Derek McLane for Variations.
And, when its time at the Lincoln Theatre ends, Looped will head to Broadway as well. The saddest thing about that fact will be watching it go.