Truth is stranger than fiction. Truth that is stranger than fiction set to music becomes doubly so.
Before you venture to see GALA Hispanic Theatre's world premiere of Momía en el closet: The Return of Eva Perón (Mummy in the Closet: The Return of Eva Perón) there are a few things to keep in mind. Following her death from cancer in July of 1952, the body of Eva Perón was preserved with the intention that she would be placed in a monument that would rival the Statue of Liberty in scale. When her widower, President Juan Perón was overthrown in a military coup in 1955, Evita's body was removed from where it was displayed in her old state office (think Lenin, not Disney's Hall of Presidents) and hidden. In fact, all references to or images of the Peróns were forbidden. The memory of Evita, it seems, was as strong as her actual presence.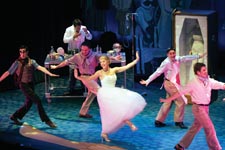 The whereabouts of the stolen body were unknown for 16 years until it was revealed that Evita had been placed in a crypt in Milan where she had rested under a false identity. In 1971 she was returned to Juan Perón, who maintained the body in his home in Spain. He returned to Argentina two years later to serve a third presidential term but died in office. It was Isabel, Perón's third wife and presidential successor, who had Evita's body brought to Argentina and, eventually, placed in a tomb said to be so protected it could survive the impact of a nuclear bomb.
In other words, it's a story that begs to become… a musical?
Momía is not Evita, The Sequel. With a book by Gustavo Ott and music and concept by Mariano Vales the show is its own oddly fascinating mix of comedy, tragedy and the macabre. If the echo of Evita is "You Must Love Me," the question being asked here is "What Do They Want from Me?"
Momía's Evita is not urging the crowds to accept her. Instead, she wishes to be released. She does not want to see how far the country that she loved and worried for has drifted. She does not wish to see her husband with a new wife. She does not wish to be a mummified but ultimately powerless icon shuffled from closet to crypt.
There is a certain cultural camp factor to Momía, a sense of humor that is broader and instantly recognizable to anyone familiar with Spanish-language sketch and situation comedies.
Dr. Ara, the man who did the actual embalming of Evita, is imagined as a well-meaning but slightly mad scientist with electro-shocked hair and an unsettling fondness for his work. A troupe of soldiers burst into a fashionista-inspired song-and-dance number. Isabel Perón teeters around the stage looking more like a Peggy Lee bobblehead than the future first female head-of-state in the Western Hemisphere.
And it is this sensibility — the flamboyant swish and exaggerated swagger — that makes the show's disturbing moments more unsettling. There is necrophilia. There is the presence of Los Descamisados and reference to "The Disappeared." There is failure.
Leading the cast is Laura Conforte as a picture perfect Eva Perón. While it is not always the most complimentary of things to focus on how an actor looks in their role, keep in mind that Conforte must go from being the living, vibrant Evita to being, quite literally, a dead woman walking. Conforte's physical vocabulary is impressive and, while her voice strains to meet some of the lyrical challenges put forward by Ott and Vales, she offers audiences a tremendous performance to consider.
But while Momía has a strong story upon which to build and a solid cast to support its storytelling, the musical is not without its issues. Most central and often off-putting, is its habit of leaning on direct narration.
Admittedly, for many the political and social history of Argentina begins and ends with the image of a Broadway actress on a balcony singing to her adoring population. It is easy to understand why Ott wanted to make absolutely sure that the far broader reality of the country was clearly communicated and understood.
MOMÍA EN EL CLOSET: THE RETURN OF EVA PERÓN



1/2
To June 28
$34-$38
800-494-8497
www.galatheatre.org
But there are times when things are taken too far. Actors deliver expository monologues that feel false and out of place. The use of actual film footage and imagery is hampered by the set's physical realities and the jarring nature of reconciling a world of clowning mustachioed generals and the grim realities of a country in revolution (a juxtaposition better handled by the actors when they are called upon to do so). A back wall is lined with dress shirts to make certain we understand that descamisado means "the shirtless."
In short, there seems to be occasional mistrust of the strength of this musical's almost parable-like message.
It's a worry that all involved with the production and the creative team can dismiss. Momía en el closet: The Return of Eva Perón is a funny and thought-provoking mix of historical fact and inspired fiction.