Folk-rocker Melissa Ferrick is enthusiastic about the prospects of gay marriage.
"I think it's awesome that it passed in Iowa, and it's great that it seems to be becoming something that's more the norm than not norm," she says.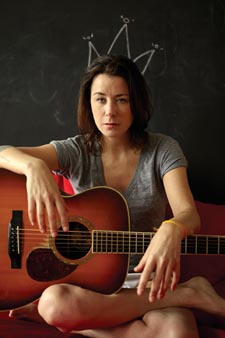 Melissa Ferrick
But the 38-year-old Massachusetts lesbian's enthusiasm isn't exactly personal. Ferrick has no plans to get hitched any time soon. "I don't know that it's something that I would want to do," she says. "But I think it's important that I would have the right to do it if I wanted to, you know? I think it's a personal choice if you want to get married or not, but that should be a choice whether or not you're gay or you're straight."
Just like last year, Ferrick will perform at the Capital Pride Women's Pride Concert at Nightclub 9:30. This year she'll perform with Meshell Ndegeocello. Ferrick says she's not sure if the two singer-songwriters will actually perform together, as Ferrick usually does when she's on tour with the likes of Ani DiFranco or Brandi Carlile. "We'll see," she says. "Could be a last-minute jam session."
Ferrick is touring this year in support of Goodbye Youth. Unlike her previous albums, the set, released last fall, is a stripped-down affair — what she refers to as her version of Patty Griffin's all-acoustic debut Living with Ghosts. "It's totally acoustic," she says. "Recorded live in the studio in Brooklyn. It probably took like eight hours to do. Kind of just me and the guitar, in a controlled environment.
"I'm not sure why I haven't ever made a record like this before, because that's how I tour and stuff." Ferrick is currently working on a new album, intended for release in the fall. The new set is "rougher. It's leaning in the P.J. Harvey/Liz Phair direction of very heavy. Little more grungy — more dirt on it, and heavier emotionally as well as sonically."
This summer, Ferrick will teach a songwriting course at her alma mater, Boston's esteemed Berklee College of Music. And of course, she'll hit gay pride events around the country. "Mostly when I was young it was just like a great party weekend, and a great time to meet other people," Ferrick says, about going to Boston's gay pride festivities as a teenager. "It's always inspiring now that I get to play them to see the young people who've just come out. And the parents and sisters and aunts — the straight people who come out in support of gay pride. I think that's just awesome. Those are the tear-jerkers for me."
Ferrick is definitely looking forward to hitting Capital Pride weekend. "The 9:30 Club is one of my favorite venues to play in the country," she says. She even plans to hang out after the concert for the official Women's Pride Party — at least for a little while. "I only last so long. When you try to dance and get your picture taken with people at the same time, it doesn't work so well."
Melissa Ferrick will appear at the Women's Pride Concert on Friday, June 12, at the 9:30 Nightclub, 815 V St. NW. Doors open at 7 p.m. Show starts at 8 p.m. Dance party starts at 11 p.m. Tickets are $30 for the concert and dance party or $20 for just the dance party.