Relaxing on the beach in Rehoboth earlier this month, Ben Thompson scooped up all of his things in a flash as an unexpectedly strong wave flooded the sand where his belongings sat. As the wave made its return to the sea, Thompson's iPhone slipped from his hand and tumbled in. He dropped everything else to rescue his connection to the rest of the world — including his boyfriend back home in D.C. But it was too late.
"I tried to turn it off and it just continuously kept rebooting," he says of the phone, which had become more useful as a paperweight.
While his iPhone's drowning didn't ruin Thompson's trip, he realized how dependent he was on instantaneous connection: "I had to go through sort of a proxy to reach my boyfriend. Even if I wanted to contact my friends who weren't with me, I had to ask another friend for a phone."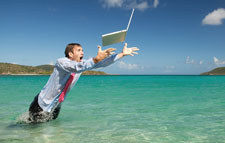 Not everyone might have handled things as calmly as Thompson. For some, the idea of spending a minute without a "smartphone" or laptop — or simply disconnecting from the Internet — can be debilitating.
"Some people have to be on the computer for work, and that's task-oriented, but if you are just kind of idly on the computer and hours pass, that might be a sign that you have a problem," says Michael W. Payne, a licensed therapist at Hearts and Minds Therapies in Dupont Circle and Alexandria.
In these few decades that have seen society move from pay phones to devices that can track our locations and offer instant communication by text or voice from nearly any corner of the globe, how do you know if the discomfort you feel upon being disconnected is an inconvenience or an incapacitation?
"If the Internet is taking you away from human relationships, if you choose to be on the Internet instead of accepting an invitation to do something with friends, or to engage more with your partner, I'd say that's a sign," says Payne. Like any addiction or compulsion, whether it's on your phone or computer, the first step is admitting you have a problem.
Ironically, there are a number of Web sites offering help to those who may be suffering from "Internet Addiction Disorder." But, notes Payne, the term "addiction" is not widely accepted by the medical community in this situation, as those suffering from the problem are displaying a "behavioral pattern" and not an actual addiction to the technology.
Whatever the definition, the Internet may still be the first step to recovery. To start, Payne suggests filling out an online questionnaire at The Center for Internet Addiction Recovery, a Web site that hosts a free, 20-question, mild-to-moderate-to-severe "Internet Addiction Quiz" that includes questions such as, "How often do you find that you stay online longer than you intended?"
"If you really don't have a sense of how much time you're spending on the Internet, you might also keep a log of the hours from day to day," Payne suggests. "Just take stock of how much you're devoting to that, and whether it's the amount of time that you would want to spend on the Internet."
But aren't blogs, Internet games, porn, shopping and social networking Web sites just other forms of entertainment, much like watching television or reading a book?
Yes, says Payne, adding that "if it's getting in the way of you feeling like you're participating in life, or if you feel isolated because you're not really connecting to anything that you feel passionate about or enjoying, then I would say it's keeping you from something that might make your life more enjoyable."
If lists and questionnaires don't help break the habit of pulling your phone out of your pocket every 10 seconds to check for e-mails, texts or Tweets, or from leaving your computer, consider professional help.
"You might be avoiding something in your life, so that you're spending so much time on the Internet," says Payne. "It would be beneficial to explore that in a therapeutic setting."
For more information about the Center for Internet Addiction Recovery, visit www.netaddiction.com. To get in touch with Michael W. Payne, call 703-622-2993 or visit www.heartsandmindstherapies.com.