Following weeks of criticism from gay activists, bloggers and political leaders, President Barack Obama welcomed more than 275 members of the GLBT community to a reception in the East Room of the White House marking the 40th anniversary of the Stonewall riots.
The Monday, June 29, reception also celebrated the traditional Pride month of June. In his welcoming speech, Obama praised local activist Frank Kameny, 84, as a civil-rights pioneer and said he wants to do his part as president to ensure equality for all Americans.
"We have made progress and we will make more," Obama said. "We've been in office six months now. I suspect that by the time this administration is over, I think you guys will have pretty good feelings about the Obama administration."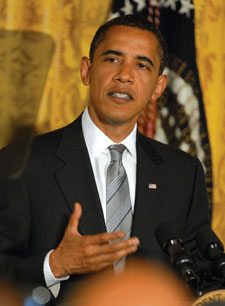 Obama speaks to GLBT invitees June 29
Obama said that during his tenure as president, he hopes to repeal "Don't Ask Don't Tell" and the Defense of Marriage Act, as well as take other steps toward GLBT equality.
While the White House reception may or may not go down in history as a monumental event, Cornelius Baker, executive director of the National Black Gay Men's Advocacy Coalition, says it's a step in the right direction.
"The day that we're all back there for the president to sign the Employment Non-Discrimination Act (ENDA), that will be a day that changes everything," said Baker, who attended the reception. "I think that what yesterday did, is to say that we're part of the American family. The president certainly opened up America's house and home to its gay and lesbian children yesterday. Now we need to get on with the hard work of making law that protects everyone."
Baker, who is gay and at one point worked for the U.S. Department of Health and Human Services under President George H.W. Bush, says Obama embodies the type of leadership that the GLBT community needs to move ahead.
"It's the reason that I am not any longer a Republican," he says. "The party lost its way in terms of fighting for progress for all Americans in treating all people decently and equally."
Mara Keisling, executive director of the National Center for Transgender Equality, also attended the event.
"I think it was clear to all of us that the president was clearly trying to send the message that he was supportive and knew he had a lot of work to do, and was willing to get it all done," she said.
"I don't think he made me any less inpatient about the timetable, and I still believe — as he probably does — that we need to hold his feet to the fire. But he could not have been any clearer on all the policies he supports. I wish there was more about the transgender part of the community, but it's a really good first start."
The reception was a somewhat surreal experience for Paquita Wiggins, the Beltsville, Md., lesbian who co-chaired the local ObamaPride campaign group during the election.
"I think he's doing a great job. We should be paying attention to everything that he's doing, not just what we think he should be doing."