You'll always find a fun mood inside Pulp. The shop's founder Ron Henderson, who died in February, left a legacy of levity. "He always showed love and kindness to us as employees," says Beverly Jones, general manager of the card and gift emporium at 1803 14th St. NW. Jones first met Henderson when she was selling her own gift cards at Eastern Market. "We like to laugh and play and giggle with our customers," she says. "That's the tone Ron set." A good introduction to Pulp comes this weekend during the MidCity Dog Days sidewalk sale, Aug. 1 and 2. You can also find them on Facebook, visit www.pulpdc.com or call 202-462-7857.
Nine Degrees of Bacon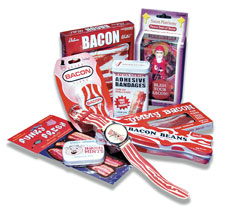 Sure, plain ol' everyday bacon is great. But the folks at Accoutrements have gone hog-wild producing everything from gummy bacon to bacon air freshener, and Pulp is proud to offer this porky parade. Keep a bacon wallet in your rump pocket or a St. Anthony icon — the patron saint of bacon — anywhere you please. There are bacon bandages for your boo boos, bacon-flavored jelly beans, and even a bacon wristwatch. Oh, and let's not forget the delicious bacon mints and that bacon dental floss, the perfect capper to a bacon 'n eggs breakfast. ($3.25-$29.95)
Occasional Cards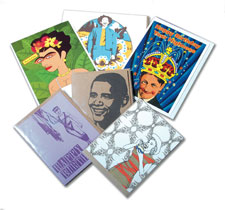 From the assortment of $1 postcards to the unique $21.99 cards that are original works of art, Pulp offers something for any occasion. Head upstairs for the yummy beefcake cards, or hit the sidewalk out front during the Dog Days sale to stock up on marked-down greetings.
Tipplers' Trinkets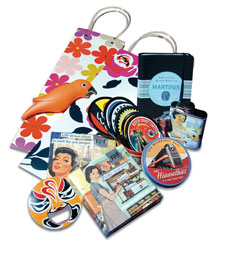 You'll never realize how dull opening bottles has been till you try popping a lid with a Kabuki-themed bottle opener from Kikkerland or a birdie opener from Living Gear. And drinking is super fun when the pour comes from a retro Anne Taintor flask. Matching cocktail napkins from PPD come in sets of 20, while gorgeous vintage coasters in a variety of themes from Laughing Elephant are available in tins of six. Don't know what to put on them? Pick up the Little Book of Martinis from Peter Pauper Press. Or be the life of the party by gifting a bottle in one of Pulp's assortment of bags. ($4.25-$21.50)
Can-do Candles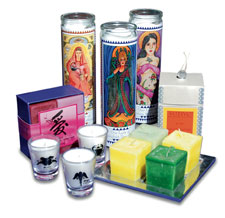 Let there be a holy glow with Everyday Icon Ironic Prayer Candles. You won't see the Santo Obama candle here, but trust us, he sees you. Pulp offers a range of waxy treats, from Curly Girl 100 percent soy candles to the popular Votivo Red Currant. Price-wise, Curly Girl tops the list at $29.95 with other selections as inexpensive as $3.50.
Never Ending Pride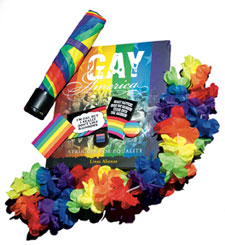 If post-Pride season has left you with a rainbow jones, you may still be able to find a few at Pulp. Pick up a copy of Linas Alsenas' rainbow-wrapped Gay America, get rainbow lai'd, or beat back the rain with a rainbow umbrella.