It's not every day that you get to shake hands with the president of the United States. So when Alex Nicholson got his moment with Barack Obama on Monday, June 29, following the president's welcoming remarks during a GLBT Pride celebration at the White House commemorating the 40th anniversary of the Stonewall riots, he tried to use his time efficiently.
"I just shook his hand and said to him, 'I was one of the Arabic speakers who was discharged under 'Don't Ask Don't Tell,' and I said, 'Thank you for your leadership, but let's go ahead and get this thing done.' And he kind of smiled and said, 'Well, I'll try."'
By "get this thing done," Nicholson was referring to a repeal of 'Don't Ask Don't Tell,' a policy that prohibits gay people from serving openly in the military.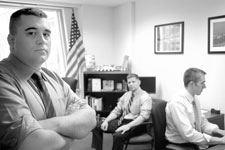 Just prior that memorable handshake, the president gave a speech in which he promised to repeal the measure.
"As I said beforeÂ… I believe 'Don't Ask Don't Tell' doesn't contribute to our national security," Obama said, as recorded in the official transcript. "In fact, I believe preventing patriotic Americans from serving their country weakens our national securityÂ…. That's why I've asked the Secretary of Defense and the Chairman of the Joint Chiefs of Staff to develop a plan for how to thoroughly implement a repeal."
They were encouraging words for Nicholson. He has been advocating for such legislation for nearly four years as the executive director of Servicemembers United, the nation's largest organization of gay and lesbian veterans and their straight allies who have been affected by DADT.
"Most of our work has been very private," says Nicholson, 28, originally from McColl, S.C. "You could characterize it as grassroots work around the country."
On May 21, Servicemembers United brought that work to Washington in a bigger way, with the opening of the organization's first office, at 1725 I St. NW. Three people work out of the office, including Nicholson, while about 10 others contribute to the organization remotely.
"We wanted to expand from just doing awareness and publicity-raising events around the country, to getting into the legislative arena and giving the people who are actually affected by DADT — and who have actually served under DADT — a seat at the table."
Nicholson says he feels that before Servicemembers United, most of the organizations working on DADT were limited to activists, civilians and lawyers.
"They've all done great work," he says, "but I think it's very unusual that the people who are actually affected by this issue are not leading the way. We wanted to insert the gay vets themselves, who have served under DADT, particularly [those who have] been discharged under DADT, talking from a policy and legislative perspective. You really have to be here in D.C. to do that."
That's a tad different from the work that Servicemembers Legal Defense Network (SLDN) does.
"SLDN is at its core a legal-aid organization," Nicholson says, "so, they've always been the organization that has provided free legal assistance to people who are going through investigation or discharge. It's just been very recently that their lawyers and their staff has gotten into the legislative work.
"Our niche is sort of the conservatives and moderates, going after those. And we're an all-veteran organization, in terms of our membership. We're the largest organization of gay and lesbian troops and vets out there, and SLDN is not that. They're a legal-aid organization staffed by lawyers, and a couple of professionals."
Servicemembers United frequently collaborates with SLDN and other organizations — the Human Rights Campaign, for example — on such projects as the "12,000 Flags for 12,000 Patriots" in the winter of 2007, which represented 12,000 veterans discharged since 1993, when former President Bill Clinton signed DADT into law.
Before getting involved in the effort to repeal DADT, Nicholson was serving in the United States Army as an intelligence director. He was discharged from the Army in 2002 after being "outed by a friend."
"At the time, it was a huge shock. It was something that I didn't expect," Nicholson recalls. "It was in my first year of serving in the military and I was expecting to be in there for like five years, so it sort of turned my life upside down at the time."
It also forced him to come out to family.
"My dad was also in the Army," Nicholson points out, explaining the two men share the same name. "When they mailed my discharge papers to my home of record, my parents' house, my dad, thinking anything coming from the Army to that address must be for him, opened it up and that's how he found out I was gay.
"It was very awkward for many years, and still is to a certain extent."
Three years later, Nicholson joined the war against DADT.
"I wasn't a lawyer. I wasn't an activist. There was just sort of no platform for gay vets who wanted to get involved in advocating against the DADT issue, to get involved with, en masse, and so I sort of created that platform."
Servicemembers United's first effort was a 20-city nationwide speaking tour by a small group of Iraq and Afghanistan gay vets in 2006. That resulted in significant coverage in media over seven weeks, which showed that the group could create buzz on DADT issues. That realization highlighted what they needed to do next.
"We need to do more of this and have an organization that's going to be run by, and representing, the people affected by this issue."
For more information about Servicemembers United, visit the organization online at http://servicemembersunited.org, or call 202-349-1125.