When Maryland's Jake Nodar made his great, gay showing on the Discovery Channel's Out of the Wild: The Alaska Experiment, filmed in September 2008, blueberries were a life-saver.
"We would come across them sporadically," says the star of the survivalist show, who spent most of those days fighting off hunger. "If we were lucky, if we found a good patch, we'd get a couple handfuls per person. Thirty days out, we really did survive off of blueberries."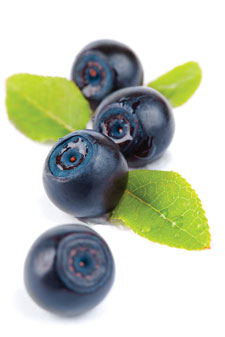 Back in civilization, Nodar prefers his blueberries in pancakes or champagne. And as one of summer's signature fruits, there's no better time. With the humble blueberry's nutritional credentials, it's almost negligent not to.
The U.S. Highbush Blueberry Council, for example, touts all sorts of wondrous news about this gorgeous berry, including compiled data pointing to fresh blueberries as having more "antioxidant activity than many other fresh fruits and vegetables." That's on top of helping to maintain a healthy urinary tract — and who doesn't want that? And researchers for the USDA Human Nutrition Research Center found evidence in laboratory mice indicating a link between blueberries and delaying age-related loss of mental capacity.
Mix that science with a study from researchers at Thailand's Kasetsart University and the U.S. Department of Agriculture in which they shared findings that ethanol increased the antioxidant activity of some berries, and Nodar's champagne and blueberries may be the next beverage of champions. Of course, those little berries would have to pull a pretty mighty punch to offset the alcohol damage.
It's not so hard to test the science, though. Maybe you've spied the blueberries behind the bar at Halo Lounge on P Street NW, where they've been used since Day 1 for Halo's blueberry mojito, says Brian Blanchard, general manager. This local twist on a Brazilian classic of mint, sugar, rum and soda, employs Malibu Rum for its coconut flavor, along with a generous amount of muddled blueberries. Halo gives the same treatment to Brazil's national cocktail, the caipirinha, adding acai juice as well as the muddled blueberries and Stolichnaya's Stoli Blueberi vodka to the traditional mix — back on the menu by popular demand, permanently.
Closer to Nodar's taste is likely the blueberry mimosa offered during brunch at Nage D.C., off Scott Circle. General manager Galen Johnson says the restaurant tries to keep blueberry puree on hand year-round, though they sometimes have to substitute with blackberry. And while the original Rehoboth, Del., outpost has no brunch, they are offering a summer dessert with local blueberries served with lemon curd and whipped cream in puff pastry. Or, just sit at the bar and enjoy a blueberry lemonade of blueberry vodka, freshly squeezed lemonade and muddled blueberries.
If, however, you'd prefer a less-adult blueberry experience, you'd be hard-pressed to find one more gratifying than the one that sits just 10 miles north of the Beltway in Ashton, Md. Where else can you find a blueberry farm combined with a yoga retreat?
"If one is looking for it or not, it's possible to bump into a wonderful, outdoor, physical experience. It can also be spiritual," says Robert True, one of the owners of Blueberry Gardens. "The common thing is this wonderful fruit that crosses all boundaries. … In our household, eating them raw is best. We'll put them in pancakes, but they're so good fresh. We eat them every day, in season."
He implores, however, that anyone thinking about making a day of their "u-pick" organic blueberries call first. It's a small operation, and once a crop has been picked clean, the farm needs a few days for the next crop to ripen. True guesses, though, that there should be blueberries available through August.
But don't invite Nodar. While he says he's surprised that he still actually enjoys blueberries — having expected to dry-heave at the sight of them after Alaska — his actual berry-picking days are over: "I won't ever pick them again," he insists with a snicker. "I don't support that."
For Blueberry Gardens, 237 Ashton Road, Ashton, Md., check blueberry availability by calling 301-570-5468. Visit the farm online at www.blueberrygardens.org. For Halo, 1435 P St. NW, call 202-797-9730, or visit www.halodc.com. For information on either Nage D.C., 1600 Rhode Island Ave. NW, or Nage Rehoboth, visit www.nagerestaurant.com, or call 202-448-8005.