Can you imagine telling total strangers the details of your local sexual escapades? Actor Brent Stansell will do just that with his first solo show, debuting tonight as part of this year's Capital Fringe Festival. Stansell's sexually explicit My Fabulous Sex Life, opening July 9 at 7 p.m., at The Shop at Fort Fringe, is just one of 120 shows running repeatedly over 18 days at the fourth Fringe Festival. The festival offers emerging artists space for creative, cutting-edge and contemporary performance. Not everything is experimental, and there are shows for children and all ages, and for those with mild, mainstream tastes. Some 10,000 people are expected to attend.
But you can't represent the fringe of the theater world without wild shows like Bare Breasted Women Sword Fighting (opening July 16 at 9 p.m., Source). Not to mention Headscarf and the Angry Bitch (opening July 9 at 7:30 p.m., Warehouse — Next Door), Zehra Fazal's tongue-in-cheek musical romp through growing up Muslim in America. And certainly Captain Squishy's Yee Haw Jamboree! (the musical) (opening July 10 at 9:30 p.m., the Baldacchino Gypsy Tent Bar at Fort Fringe) should live up to its billing as "the stupidest show in Fringe." And then there's the return of Bargain Basement Game Show (opening July 10 at 9:15 p.m., Warehouse — Next Door), in which all in the audience become contestants in a game show combining high-brow trivia with low-brow humor.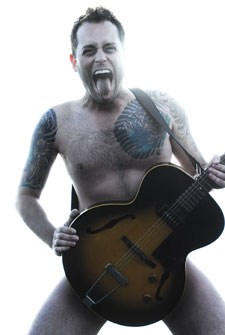 Kevin Thorton: 'Sex, Dreams & Self Control'
This year's festival, concentrated at some 20 venues in the Mount Vernon neighborhood and headquartered at the former A.V. Ristorante Italiano, features about a dozen shows with GLBT themes. There's no guarantee, of course, that the shows are of high quality — but there's also little chance of boredom.
In addition to Stansell's show, which he actually wrote for academic credit as a student at George Washington University, there's Kevin Thornton's semi-autobiographical Sex, Dreams & Self Control (opening July 15 at 8:30 p.m., Goethe Institut). Thornton, of the Nashville-based indie new wave band Waves on Waves, was inspired by Augusten Burroughs, Sandra Bernhard and Spring Awakening in creating an alternative folk-rock score to accompany his comedic tale of growing up as a God-fearing boy in James Dean's small Indiana hometown.
Other shows with queer interest include Beyond Dark Corners (opening July 11 at 8:15 p.m., Warehouse — Next Door) from local theater director Terry Sidney and performance artist Christopher Prince, a work of poetry, music and storytelling from a gay black perspective. Meanwhile, Broadway actor and playwright Cornelius Jones Jr. presents his show FlagBoy (opening July 10 at 5 p.m., Warehouse — Next Door), about coming-of-age as a young gay Southern black boy as he makes the move from Virginia and D.C. to New York.
The Shark Tank Players Productions' Uncorseted (opening July 9, at 5:30 p.m., The Shop at Fort Fringe) is a bawdy gender-bending romp — complete with plastic swords — set during the 1893 World's Fair.
After several years of performing in New York, Peter Neofotis brings to town his critically praised one-man show Concord, Virginia (opening July 22 at 6:30 p.m., Goethe Institut). The show, and a new book it inspired, chronicles the inhabitants of a Blue Ridge Mountain town over the course of a century, including the true story of a gay man put on trial for oral sex.
Rachel Manteuffel plays a lesbian, D.C. public-school teacher whose career is threatened by a student's homophobic rumors in the scathing world-premiere drama The Teacher's Lounge or One Child Left Behind (opening July 12 at 1 p.m., the Shop at Fort Fringe).
THE CAPITAL FRINGE FESTIVAL
July 9-26
Fort Fringe
607 New York Ave. NW
Single tickets: $15
Festival passes: $50-$300
866-811-4111
www.capitalfringe.org
Robert Bettmann's dance/theater performance piece All Good Men (opening July 16 at 7:45 p.m., Apothecary at the Trading Post) follows the story of a medical doctor and her transgendered wife as they develop career and family in a society that doesn't accept them. The ribald story combines a theatrical adaptation of a Dylan Thomas film-script with seven original dances and a cast of professional dancers.
The gay Helen Hayes Award-winning actor Rick Hammerly produces the experimental 4.48 Psychosis (opening July 9 at 7:30 p.m., the Bodega at the Trading Post), a play by the late lesbian Sarah Kane exploring depression and suicide. John Moletress directs this provocative production, featuring several notable actors as well as original video design and music, the first from the promising new local theater collective Factory 449.
And in Twenty-first Century Theatre's 2 Shorts in Black and White: Count Dracula's Café (opening July 11 at 7 p.m., Goethe Institut), Dracula has lost his creativity because the FDA refuses gay blood. So he becomes, as the show's description puts it, in need of a good man to suck.