Jayson Watson's mother once helped him at the Green Lantern. "She got to hold towels over people's crotches, and that was the best day of her life," Watson says, joking that she went back and "told all of her friends in her quilting bee."
His mother was helping Watson out as host of the bar's weekly "Best Of" contest. Best of what, you may ask? "It depends on how much I've had to drink usually," says Watson. The Thursday night body contest generally focuses on butts or packages, though sometimes chests or tattoos or leather gets celebrated. "We've done just about everything you've ever seen a bar do," he says. "Basically the crowd wants to see people as naked as they're allowed to be."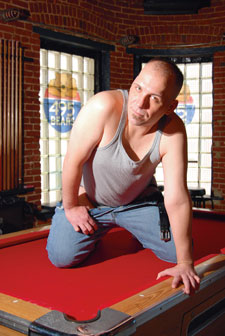 Jayson Watson
Better known at the bar by his nickname Puppy, the 34-year-old Watson tends bar downstairs for weeknight happy hours and upstairs Wednesday and Thursday nights. He started the contest almost four years ago with a former Lantern bartender as a way to keep people from leaving as soon as the bar's popular "Shirtless Men Drink Free" promotion ends at 11 p.m.
Now the contest, which starts around 11:30 p.m., has become something of a draw all its own. As part of its impressive upstairs remodel earlier this year, the Lantern built a small stage for the show – no longer conducted on a makeshift stage, the venue's pool table. Later this year, the contest will spawn the first-ever Mr. Green Lantern contest, for which all previous "Best Of" winners will be invited to compete.
But as enticing as it is to see skin, Watson's ribald sense of humor is ultimately what makes the contest fun. "I've grown to like it. I'm a lot shier than people give me credit for," says Watson, who left his native Tennessee upon graduating from high school at age 16. His father, a preacher, couldn't handle his son's coming out as gay. (The second youngest of four boys, Watson says he's only close to his mother.) Watson settled in D.C. more than six years ago. Eventually he and his partner of four-and-a-half-years, who occasionally serves as his show sidekick, plan to move to Austin.
Until then, he's happy to keep doing what he's doing, contributing to Thursday-night naughtiness.
"It's a hard night, most people have to work the next morning," Watson says. "I'm sure we've caused many hangovers in D.C., and people just feeling rough the next day. You're welcome!"
The "Best Of" contest happens every Thursday night at 11:30 p.m. at the Green Lantern, 1335 Green Court NW. Visit www.greenlanterndc.com.