"The gay community completely embraced it and made it kind of the mantra of how people felt," says Ultra Naté, in reference to her 1997 worldwide breakthrough hit "Free." With its affirming lyrics to love everyone and "do what you want to do," "Free" — as with so many of Naté's subsequent dance hits, from "Found A Cure" to "Give It All You Got" — quickly became a gay anthem. And it helped make the Baltimore-based singer-songwriter a staple performer at gay events, including next Friday, Aug. 28, when she'll perform as the headliner at Six Flags America for Out in America, an official gay party benefiting The Task Force.
Naté discovered her calling while a pre-med college student, becoming a self-described "club kid, addicted to the music and dancing." And with that name of course, she was born to perform. "My mom was a little wild style when she was younger, so she would come up with little kooky stuff," explains Naté, whose first and middle names stem from the hair product Ultra Sheen and the perfume Jean Naté. "She almost named me Ultra Jean Naté, but then she thought that was probably just a little too much. She dropped the Jean, thank god."
"Free" spawned one of house's best albums, 1998's Situation Critical, and it secured Naté a spot singing the hit dance cover "If You Could Read My Mind" with Amber and Jocelyn Enriguez for the 1998 disco movie 54.
Her recording career continues in full swing, with work on a new album to follow 2007's Grime, Silk & Thunder, plus a Black Eyed Peas-esque project with Baltimore's Unruly Records crew. But these days, in addition to being the mother of a 4-year-old son, Naté is busy promoting other artists with releases from her Deep Sugar label, including fellow '90s dance singer Sybil and Inaya Day.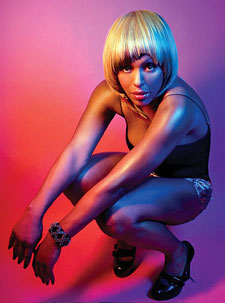 Ultra Nate
(Photo by Karl Giant)
She never tires of her classics. When she performed "New Kind of Medicine" at Chicago Pride this year, she says "people were just singing, hands in the air, and just really loving the string arrangement on it and the warmth of that sound. That reaction is refreshing every time."
Ultra Naté headlines a full slate of DJs and entertainers at the "Out in America" private party benefiting The Task Force Friday, Aug. 28, from 5 p.m. to 11 p.m. Six Flags America in Bowie, Md. Tickets range from $45 (advance), $60 (at the gate) to $150 (VIP Access). Visit www.outinevents.com for more information.