From the moment I first stepped off the plane in 2004, Palm Springs had me hooked. I return each year, discovering new reasons to go back each trip.

One of my first memories is of being in awe of the San Jacinto Mountains rising abruptly from the desert. The mountains, often topped with snow well into the warmer months of the year, are visible from nearly every part of the city.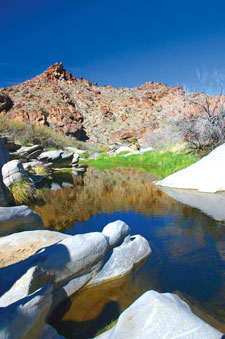 Palm Springs
Once an escape for Hollywood's old guard such as Frank Sinatra, Rock Hudson, Lucille Ball, Elvis and the Rat Pack, during the last 30 years Palm Springs has become one of the top destinations in the U.S. for gay travelers. Estimates are that nearly half of the city's residents identify as gay, which makes for a comfortable, open environment.
The high season for this Southern California desert city runs from October to May when temperatures are milder. However, many visitors make a point of visiting during the sizzling summer months when airfares and hotel specials are common. Popular activities for visitors include taking a picturesque ride on the Aerial Tramway, ascending 8,500 feet up the side of the surrounding mountains; shopping at the Desert Hills Premium Outlets, a sprawling complex that plays host to famous brand names and prominent designers at discounted prices; and exploring the surrounding unique natural attractions such as the Indian Canyons and Joshua Tree National Park. The dominating mid-century architecture is also a major draw.
Every Thursday evening the city's main street, Palm Canyon Drive, closes for a few hours to become a pedestrian plaza filled with arts and crafts, food vendors and live entertainment.
Palm Springs is also the setting for many gay-specific annual events. Among the largest gay gathering is the White Party. Held during Easter Weekend for more than two decades, it is one of the top circuit parties in the world. The Dinah, which coincides with the Ladies Professional Golf Association's Kraft Nabisco Championship Golf Tournament (formerly the Dinah Shore Golf Championship), has become a must-do "spring break" for lesbians. And November welcomes Greater Palm Springs Pride. The celebration includes a festival and a large parade through downtown.
When it comes to places to eat, Wang's in the Desert, which offers Pan Asian cuisine, is a personal favorite. During Friday happy hour, it feels as if every gay man in the city is at Wang's for cocktails. Other excellent choices include Bongo Johnny's, with casual fare and a post-bar, late-night menu; and Margarita's, a Mexican restaurant that also serves great pasta dishes and has a sushi bar.
For nightlife, there are a number of bars and clubs scattered throughout the city such as Hunters Video Bar, with its trendy décor and boys; Toucans, a popular tiki-themed bar with a small dance floor that has a number of weekly events including karaoke and go-go dancers; or the Tool Shed, a happening watering hole for the Levi's and leather crowd.
By far the city's main reason for being such a leading destination for gay travelers is the many welcoming accommodations. There are approximately three dozen hotels that cater almost exclusively to the gay community, each with its own distinct personality and selling points. I have visited or stayed at nearly all of them and would be hard pressed to pick a favorite.
Most of the gay hotels are variations of the same basic design: a pool (and often a hot tub) surrounded by guest rooms. Nearly all of the resorts are clothing optional.
INNdulge and Desert Paradise are two resorts that would likely appeal to travelers who enjoy a highly social setting and getting to know other guests. Luxury accommodations can be found at The Hacienda and the East Canyon Hotel and Spa. Two intimate resorts are Tortuga del Sol and Triangle Inn. And for those seeking resorts with strong sexual heat, All Worlds Resort and Helios are good bets.
Of the few accommodations catering to a lesbian clientele, Casitas Laquita is a Southwest-styled hotel with wonderfully decorated suites, many with fireplaces for those cool winter nights.
For more information about Palm Springs, visit www.gaypalmspringsca.com.