Let's see, the last time we got a good dose of Whitney Houston was four years ago, when she appeared as a caricature on Bravo's train wreck of a hit reality show, Being Bobby Brown. And the last time we heard from Houston was a whole seven years ago. Just Whitney was its own kind of mess, lacking the kind of care that had gone into her four previous studio albums.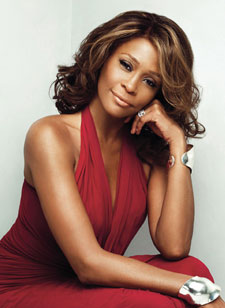 Whitney Houston
(Photo by Patrick Demarchelier)
"Did you ever wish you could get back somethin' that you did in your past?" Houston asks on "Like I Never Left," from her new album I Look To You. She admits it's her fault. And she wants us back. "I want you to love me, like I never left," she sings. Well, with an album as good as this, you can't forgive Houston fast enough.
"Don't call it a comeback. I've been here for years," Houston sings on "Salute," a phrase she lifted from LL Cool J (by way of producer R. Kelly). "Go on out the door and take care," her parting words on this album, sung over a mournful piano chord. There's a lot of pain under the surface.
The new set is not a revelation in quite the same way 1998's My Love Is Your Love, an album that especially enraptured the gays, given its sass and swagger and especially its mine of remixed dance-floor treasures ("Heartbreak Hotel," "It's Not Right, But It's Okay," "I Learned From The Best"). But like that accomplishment, I Look To You finds Houston working with hip producers to show some agility and relevance – and of course, this time around she needs all the help she can get. The public's not sure what to make of her, and it's getting distracted by other delicious-voiced divas — not that any sound quite as divine as Houston at her best, but then perfect is the enemy of the good.
Just how is the voice, you ask? Well, on record, she sounds pretty flawless. Her voice here is still a clear, penetrating powerhouse, though a shade or two deeper. Plus, she's still got the dramatic vocal tics that so many fell in love with from the beginning. She repeatedly shiver-screams her notes toward the end of "I Got You," adding layers of sincerity to this, one of two Akon-produced tracks.
The album launches with a sauntering old-school bass guitar lick, and Houston waits less than 10 seconds to add her voice, sounding a sustained full-throttle "oh" that then curls into a signature "uh-oh, yeah-yeah-yea-e-a." You'll be curling right along with Houston on this Swizz Beats and Alicia Keys-produced track, "Million Dollar Bill," the album's first official single. Meanwhile, in the verses to "Like I Never Left," Houston sounds like a teenager in love – literally. (Just listen to what two years away from a no-good ex can do.) To all the haters, she's shouting "You don't know me – too much partying and hard-living did not, in fact, ruin this voice." And it's true, it didn't — or at least, nothing studio trickery can't accommodate.
There's a bit too much studio trickery at points. The music is as sharp and as contemporary as it needs to be, but it's certainly not without its cheesy moments – it gets stuck in goo at several turns, a result of too much canned instrumentation and too little unpredictability. And the lyrics are an even dicier situation. "I know somebody's gonna make love to this song tonight," Houston sings, with no sense of dignity, on "Worth It."
WHITNEY HOUSTON
I Look To You
Arista/Sony BMG
$18.97



1/2
"Throw your hands up, for the next three minutes it's about the love now," Houston says at several points during "For The Lovers," even when there are more, and less, than three minutes left in the song.
Still, the surprise is that the album is stronger and better than you thought possible at this stage in Houston's career. And it's peppier than you may have been led to believe, too, given pre-release teases of two ballads from the set: the stale "Didn't Know My Own Strength" – thankfully, schlockmeisters Diane Warren and David Foster's only contribution this time out – and the alluring title track. In fact, Houston even features a true uptempo disco ditty, her inspired cover of Leon Russell's "A Song For You," produced by the New York-based Norwegian StarGate. The trance-like track seems to be an implicit token to the dance community, for sticking by her through thick and thin. It's a nice gesture.