Last July, adult film star Arpad Miklos appeared at Cobalt to sign DVDs and mingle with his fans.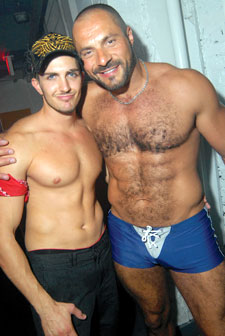 Cobalt's Pandemonium
(Photo by Ward Morrison)
"He wasn't really into dancing — that's what he told me," says Cobalt's Dylan Davis, who hired Miklos for the bar's Bear Happy Hour and for Davis's debut Pandemonium event later that evening. "But he ended up going up onstage and dancing for like two hours."
Such is the power of DJ Drew G.
"Drew tore it up," says Davis. "He just really fed off the crowd's energy. Such a hit were the pair, Davis tapped them to reprise the rumpus for the October Pandemonium, happening this Friday, Oct. 23.
Each month, intending to draw a mixed crowd, Davis hires go-go dancers and shot boys and girls for the popular party, which he throws with Ana Castronuovo. Tomorrow night local singer Sherell Chyna Rowe, whose music Davis describes as playful and wild (think Peaches or M.I.A.), will also perform. Manhunt, meanwhile, will provide free DVDs starring Miklos, available throughout the evening.
The 26-year-old Davis grew up in Colorado and earned a fine-arts degree from Florida's Ringling College of Art and Design. He enjoys the flexibility weekend bartending and party promotion gives him, including time to model for Universal Gear as well as taking on portraiture commissions. He's hoping to have a public showing of his paintings next month.
Davis channels his artistic creativity into Pandemonium, and is looking forward to the challenges of developing the party, generally held the fourth Friday of every month (though, to avoid holiday conflicts, the next Pandemonium is set for Friday, Dec. 4). Davis says that party will be an end-of-year blowout with a sports and fashion theme, offering up bartenders in wrestling singlets and a fashion show.
"[Pandemonium] really matches my personality," says Davis. "I'm very A.D.D. and I love to have [lots of] things going on all the time."
Pandemonium, featuring DJ Drew G and Arpad Miklos, is this Friday, Oct. 23, from 10 p.m. to 3 a.m. Open bar from 11 p.m. to midnight. Miklos also appears at Bear Happy Hour from 5 to 9 p.m. At Cobalt, 1639 R St. NW. Cover for Pandemonium is $6. Visit www.pandeomoniumparty.com for more information.