"The sort of plays we produce," says Forum Theatre artistic director Michael Dove, "are incredibly theatrical. [They're] plays that ask really big questions, that tackle political and social issues."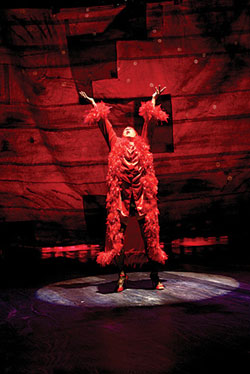 Angels in America
Nothing fills the bill better, perhaps, than Tony Kushner's epic, sprawling Angels in America. Forum has kicked off its sixth season, and first as the resident company at the Round House Theatre-Silver Spring, with both Tony Award-winning parts of Kushner's work. Part I: Millennium Approaches has been playing to great acclaim for several weeks (The Washington Post's Peter Marks loved it), while Part II: Perestroika opens this Saturday, Oct. 31.
"Our perception of [Angels] has become this large, big-budget, special-effects thing," says Dove, who is taking the directing reigns for Perestroika, but "it's supposed to be done with a really rough theatricality, where the strings show." Instead of obsessing over "how the angel breaks through the ceiling," says Dove, it's about the issues the story raises. "What have we actually done to further gay rights, or to take care of people affected with HIV/AIDS?"
Since there remains much work to do on those issues, the play's cultural and political relevance is as strong as ever. Yet it must say something that this production is, essentially, straight. "We're wondering if this is quite possibly the first straight cast and straight-directed production of Angels," notes Dove, joking that a "gay on call" was never far away.
Forum has set the seats to wrap-around three-quarters of the stage, so the crowd is watching each other as well as the actors. "There's something about being in a room full of people and addressing them: Here we are as a group of people — as Americans, or as international citizens — and we have a responsibility to one another, to be better to each other."
In repertory to Nov. 22 at Round House Theatre-Silver Spring, 8641 Colesville Road. Tickets are $25. Call 240-644-1099 or visit forumtd.org.