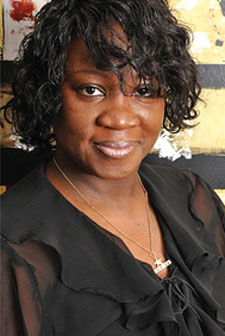 Ebonee Bradford
Most people understand what the phrase "David versus Goliath" means. It's unlikely, however, that anybody has lived the meaning of the phrase as absolutely as Ebonee Bradford.
"About 20 years ago, I lost custody of my children because I was gay," says Bradford, 43, who lives in Atlanta. When her two children were seized, however, she was living in Birmingham, Ala., a state not exactly renowned for progressive values. It didn't help matters that the father of her children was the son of the first African-American justice to sit on the Alabama Supreme Court.
"Nine judges recused themselves because they played golf with this man," she says of that custody battle, which left her worse off than David. Goliath won.
"It was horrifying," Bradford says of that fight, though she credits it with giving her an appreciation of the value of fighting for equality. It led to her position on the board of In The Life Atlanta, the world's largest African-American GLBT organization, and to the Human Rights Campaign's board of governors. It's also leading her to the D.C. streets to march for equality.
"We've been marching for a very long time. Because we've remained consistent, there are going to be a lot of people's eyes opened. … It's like when we had the Million Man March in D.C.: We had to go. It was important. And it's not a party. People think gay people come together for a party, but this is serious."
Her commitment to HRC may have already had Bradford — whose fulltime job is as a Georgia political strategist — coming to Washington for a board of governors meeting, but she says she'd be coming to D.C. regardless.
"We have a new president who is for equality. There are a lot of things that are about to happen. This may be it."
---
.