Although Michael Kahn has an exceptional talent for injecting antique plays with contemporary flair, his take on Ben Jonson's comedy The Alchemist makes one long for jerkins, ruffled collars and the trills of a dusty harpsichord. Although it is impossible to fault the precision, energy and tight pacing of the production, there is something patently off-putting about the spin Kahn gives to the trio of grifters at the heart of this farce. Instead of channeling the required lovable roguery, David Manis as the phony alchemist Subtle comes across like a seedy front-man from a marginal '80s rock band recently denied entry to Margaritaville. Michael Milligan as his partner and rival Face, is less repellant but no more convincing, and Kate Skinner, the female con Dol Common, suggests world-weariness to the point of ossification.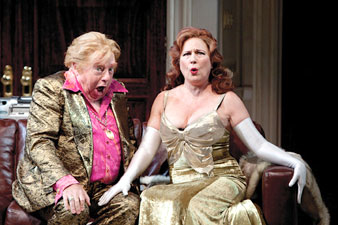 The Alchemist
(Photo by Scott Suchman)
Of course, con artists from any age must, by their very profession, have a certain slipperiness, but they must also offer charm, charisma and a psychologist's perception of human wants and needs. What Jonson doesn't write into the play, the ensemble must deliver. The most we get from this trio are an awful lot of costume changes, running around passed off as devil-may-care shenanigans, and smirking. Assuming you can adjust your expectations, you'll do fine.
If you can go with the flow, the nuggets to enjoy here come in the many characters who parade in and out of the townhouse where the con men set up camp to fleece the locals with their cash-for-alchemy scheme. Though one of the smallest parts, Robert Creighton as the diminutive and aggressively suspicious Ananias, for example, steals every scene with an abject silliness that is no doubt harder to pull off than it looks. Kyle Fabel, playing Pertinax Surly, the less-than-convinced right-hand-man of Sir Epicure Mammon, does an amusing turn disguised as a ridiculously hot-headed Spaniard, and Jeff Biehl brings a bit of Beavis and Butthead splendor to his stoner version of another victim, Abel Drugger. Though there will be those that find David Sabin's Sir Mammon, portrayed in parody of a modern icon of the nouveau riche, side-splitting, others may be less impressed with Kahn's choice of accessibility over wit.
Still, as fun as these moments are, more of our time is indeed spent with the dastardly trio who change costume and con for each potential victim at an increasingly frenetic pace. Although he is without question at home with Jonson's way with language, Manis offers more in the way of volume than color. Although he occasionally dashes around in a manner reminiscent of a funnier Christopher Lloyd as the mad professor in Back to the Future, Manis is never far from the has-been rocker; instantly ready to leer his appreciation of the young and attractive Widow Pliant, who offers the prospect of a fiscal and physical conquest like a none-too-bright groupie. It is hard to see, let alone share, what the gullible can find so compelling about Subtle since Manis puts more emphasis on filling the stage than he does on suggesting the personal connection so essential in conning his victims.
THE ALCHEMIST


To Nov. 22
Lansburgh Theatre
450 Seventh St. NW
$41-$87
202-547-1122
shakespearetheatre.org
Though Milligan succeeds in bringing a bit of traditional verve to his Face, he is too busy keeping up with the choreography to exude the kind of irony the play needs. When in disguise as the alchemist's smithy, his Igor-like persona unfortunately brings to mind far more hilarious sidekicks, including the comic genius of Marty Feldman in Young Frankenstein; just so much better not to go there unless you have the space for originality. And finally there is Skinner's Dol, vamping it up in garters when she looks like she'd be far happier in something Tennessee Williams.
Of course, staging a comedy is serious business, especially a farce drawn from another age with its own, sometimes alien, sensibilities – but what wit Jonson does have to offer a modern audience is over-powered here by the quest to color the play with niche American humor. Perhaps laudable as an academic endeavor, but much harder to enjoy as an audience.