There have been Princess Dianas and Marge Simpsons, Dorothys and Sarah Palins. Coming up on its 24th year, the annual High Heel Race changes to reflect the times. How many Lady Gagas we might see in 2009 is anyone's guess.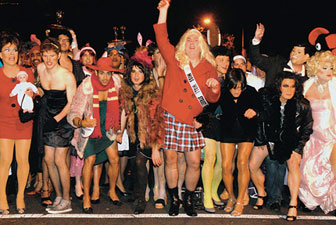 High Heel Race
(Photo by Ward Morrison)
Then again, plenty has stayed the same. And this year, it's a bit of both.
Since its impromptu inception, when a few drag queens out for Halloween-week revelry at JR.'s challenged each other to race to Annie's Paramount Steak House and back, the High Heel Race has evolved into an annual tradition. The crowds continue to grow larger along the 17th Street route between Church and R Streets NW. The race remains an orphan, technically, with no official ownership. Sponsors — JR.'s, Historic Dupont Circle Main Streets (HDCMS), Metro Weekly, DeKuyper and Miller Lite this year — yes, but no single entity to call all the shots.
As Sgt. Brett Parson, the best-known gay cop in the Metropolitan Police Department ranks, put it in 2006: "It's an anomaly as events like this go. Look how it started — it was spontaneous. This wasn't some organized event. It was a bunch of drunk drag queens who had a race down 17th Street. It's truly a community event."
You can still taste those grassroots. You cannot, however, taste a beer in the traditional beer garden adjacent JR.'s. Not this year.
"It's proven to be too cold in years past, and you can only keep it open a half hour past the race," says Dave Perruzza, vice president of JR.'s parent company, TCR. As the vice president of HDCMS as well, he's actually in charge of quite a lot. Like trying to figure out how to get the city to deal with an unofficial event, bound to draw thousands whether sanctioned or not.
This year, thanks to expert advice from unnamed sources fluent in the language of bureaucracies, the event is now being run under a First Amendment permit rather than a parade permit, reflective of the event's gay identity. That distinction clears the way for street closures and a police presence. Loosely speaking, it's the difference between a political rally and a block party.
"Until we have complete equality and people want to show up at gay events, they need to realize we don't have the same rights," says Perruzza. "The [volunteers'] shirts will probably say, 'Equality for Everyone.' It's the High Heel March for Equality. It's a gay event, put on by gay people."
Those volunteer T-shirts could still use some people to fill them, Perruzza adds, ticking off the benefits: the T-shirt itself as a souvenir, an unparalleled view of the race, and preferred entry into Cobalt and JR.'s on a night when the lines will likely be out the door.
Sam Silva, a JR.'s regular who has volunteered at the High Heel Race for years, plans to return to duty Oct. 27, the date of this year's race, always the Tuesday before Halloween.
"It's thousands of people that show up, and it's a lot more fun to be in front and able to see everything," says Silva, explaining that the volunteers create the border around the blocks the participants run.
"It can get a little insane, but I have a way of pretty much controlling the crowd with my loud-ass mouth," jokes the throaty Silva. "I used to be a sheriff in Fort Lauderdale.
"But it's pretty well-behaved. No one's ever mean or hostile, nothing like that. It's just a fun, good mood."
While Silva has the volunteer drill down pat, he may still find himself a little disoriented this year. The previous starting point, Church Street, is now the end point, while the previous finish line, R Street, is the new starting line. Perruzza says the change was made to accommodate the crowds who tend to gather at the finish line, in that there is more sidewalk space at Church Street than at R Street.
Also new for this year is a cordoned VIP area, sponsored by HDCMS. For $40, people can secure a spot to view the race, as well as the same "fast pass" entry volunteers will enjoy for JR.'s and Cobalt.
With his own cordoned area is Eduardo "Dito" Sevilla Jr., namesake of the Dito's bar below Floriana Restaurant, at the halfway point, no matter which direction the race is run. With Floriana's outdoor, fenced patio, Sevilla sets up shop outdoors for the race — though it requires a special permit from the city, as the patio's capacity controls have to take a holiday during the riotous mayhem of the race.
"I look forward to it from a community standpoint," Sevilla says, taking the good with the nuts. "From a logistical standpoint, it is a bit of a nightmare. We're the only business on this side of the street. Because we have three floors and you can look down on the race, it gets very packed.
"But everyone has to work together as a community. The High Heel Race, New Year's Eve, Capital Pride — those are the days where, as a community, we have to put on a show for everybody else."
As loved as the High Heel Race is, there is no doubt the show will go on. Even if people like Sevilla, Silva and Perruzza turned their backs on the annual affair, it's highly unlikely it would ever disappear. Continue to change? Sure. But disappear?
"If we just don't want to do it? No," Perruzza answers bluntly. "It's been so many years, people just know. It's impossible to stop. It's tradition now. It's one of the biggest events of the city. It's a great citywide event. That's why the mayor is always grand marshal. We just make sure it's a safe event."
Street closures for the 24th annual High Heel Race begin at 6 p.m., Tuesday, Oct. 27, rain or shine. The race is at 9 p.m. Anyone wishing to race must register at Cobalt, 1639 R St., N.W. To volunteer for the event, send e-mail to HeelVolunteer@aol.com.