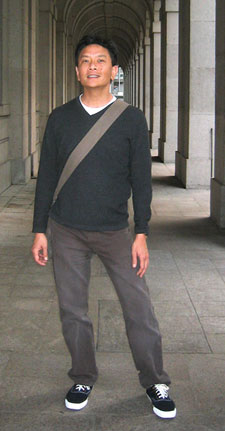 Marshall Wong
Of those coming to D.C. for the National Equality March, Marshall Wong's face may be one of the more familiar to Washingtonians. Although a Los Angeles native, Wong, who recently turned 50, lived in D.C. from 1986 to 1997, even working as the first special assistant to the mayor for Asian and Pacific Islander (API) affairs in 1987. He was also back here in April to be honored at the Pride and Heritage celebration for his work as co-chair of API Equality-Los Angeles, fighting for marriage equality in California.
But marriage isn't the only front on which Wong fights. He also works for the L.A. County Commission on Human Relations coordinating the county's programs to tackle hate crimes.
As busy as these two roles may keep him, Wong decided that coming out to march was a worthwhile effort to add to the mix.
"In weighing it in my own mind, I thought making a statement at this particular juncture — this huge upsurge in marriage-equality activism in Maine, California, Washington State — I wanted to be one of those sending a message."
Wong also grants that whenever a community plans such an undertaking, "reasonable people" will gather on either side of the debate about the best use of resources. Using his own subjective formula, though, pulling from his experience as an activist, a government employee and a gay Californian on the frontlines in the unsuccessful fight against Proposition 8, he concludes that a national march on Washington to advance GLBT equality is not part of the problem, but part of the solution.
"Timing is very critical. We've had a presidential election, which has opened up a new era of opportunities for LGBT civil rights. And yet, so far, we haven't seen the train moving very quickly on issues of great national importance," he says, adding that D.C. offers a unique venue for making a political statement and accessing people in power.
"I'm hoping for a great turnout. … If we aren't successful in setting a record, I think there can still be important benefits, especially for people who have never attended an event of this nature before. … You have people from small towns, from all walks of life, marching together, standing together, in a way which is tremendously uplifting. It inspires individuals to be bolder, to take more chances, to think about how they will conduct their lives differently in big and small ways."
---
.