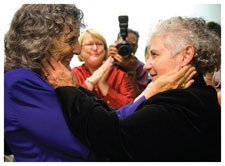 Shelly Bailes
Dustin Lance Black. The cast of Hair. Lady Gaga. Between the National Equality March and the HRC National Dinner, D.C. will definitely be getting some star power. Shelly Bailes ought to feel right at home.
Maybe you've seen her? Be it her civil union with Ellen Pontac in Vermont in 2000, the couple's California domestic partnerhip in 2002, their first marriage in 2004 — courtesy of San Francisco Mayor Gavin Newsom — or their second California marriage in June 2008, Bailes, 68, along with Pontac, 67, have become the poster wives of marriage equality in America.
It's no wonder that one of their D.C. must-sees — aside from the march itself — is the Newseum. Bailes reasonably guesses she might be able to spot some newspaper photos of her and Pontac getting married. After all, those are shots that have been seen around the world.
But it's not all fame and glamour for Bailes as she and her wife head east from California.
"We're also flying up to New York, where we have relatives. Then we'll drive up to Maine to see if we can volunteer."
Volunteering for marriage equality in Maine is a more telling trait than posing for wedding shots. The pair have been diehard activists since retiring from their crafts business more than a decade ago.
"We decided we would both give back," says Bailes. "We decided we'd become gay-rights activists."
You might even call their activism a lifestyle, rather than something likely innate, such as sexual orientation. Bailes has chosen to be an activist.
"We're also going to see our representative, Mike Thompson," Bailes adds of their D.C. trip. "We're going to speak with him about why he hasn't come onboard with marriage equality and immigration equality. He's usually onboard, so I wanted to speak to him and find out why."
---
.