Go ahead. You know you're dying to do it.
"STEEEELLLLLAAAAAA!!"
Kennedy Center seats for Sydney Theatre Company's A Streetcar Named Desire, directed by film icon Liv Ullmann, have become the most desirable plots of real estate in town. While the initial lure is undoubtedly the opportunity to see Cate Blanchett put on the starched white gloves and gentle Southern accent of Blanche DuBois, the reward is a mesmerizing production that delivers something whole, organic and true.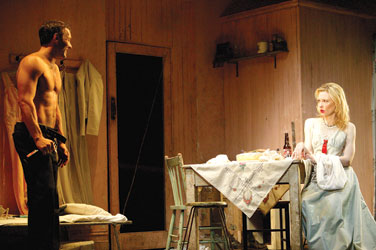 A Streetcar Named Desire
(Photo by Lisa Tomasetti)
If you've not seen the movie or the opera (or the episode of The Simpsons where Marge played Blanche in the musical "Oh, Streetcar!"), the Tennessee Williams play opens as Blanche arrives unexpectedly at the home of her sister, Stella (Robin McLeavy), and Stella's husband Stanley (Joel Edgerton).
The apartment is not what Blanche has expected, a pair of worn-out rooms on a New Orleans side street. In fact, little of what Blanche encounters is what she expected. Not her sister's rough edged husband, not the domestic battles that seem to erupt behind every curtain, and not Stella's professed contentment with her place in this concrete and disheveled world.
But Blanche, along with her fur-filled trunks, has brought along some surprises of her own.
The unblinking fearlessness of Williams' writing is shocking, particularly for those who fall in the camp of knowing Streetcar without ever having seen it onstage. Alcoholism, rape, mental illness, homosexuality, physical abuse. Williams unpacks and unpacks until one begins to wonder when it might all topple down. How much darker can things get? How many paper lanterns will need to be hung for a little bit of light and color to seep through?
Leading the way through the darkness is Blanchett, whose Blanche is striking not because it is Blanche being played by a movie star but by an actor of great skill and dexterity. From her first shaking, teetering steps on stage to her shuddering exit thanks to "the kindness of strangers," Blanchett's performance is raw and uncluttered. Perhaps most notable is her seamless melting into the play's ensemble cast. Blanchett may be playing a lead, but with great confidence she refrains from playing the star.
Edgerton (whose film credits include Ned Kelly and two of the "Star Wars" prequels) creates a Stanley who is brutally physical and emotionally magnetic. This is a rafter-shaking performance, with the actor moving swiftly and believably from hulking aggressor to vulnerable husk. Edgerton finds a solid counterpoint in McLeavy. The Stella McLeavy embodies is neither pitiable victim nor flawless heroine. We might question the choices she makes, but not her ability to make them.
A STREETCAR NAMED DESIRE





Eisenhower Theater
To Nov. 21
$25-$110
202-467-4600
kennedy-center.org
This is an enviable and arresting production. While we certainly don't depend on the kindness of visiting companies here in D.C., we are certainly fortunate that the Kennedy Center's Eisenhower is playing host to this one.
As easy as it is to lose track, the plays of William Shakespeare weren't originally set in the 21st century. They did not take place in the United States, certainly not in a neighborhood that looks a lot like Washington, D.C.'s H Street Corridor. The original actors tended to have English accents, not Caribbean. No one wore cabana shirts or leopard-print camisoles, and there was no DJ.
Still, the folks at the Folger Theatre have decided to take Mr. Shakespeare on another time warp road trip, this time piloting Much Ado About Nothing to D.C in the days before the city's annual Caribbean Carnival.
It's all there. The bright masks, tropics-drenched shirts and, of course, a glowing neon palm tree.
It may not be what the Bard originally envisioned for his tale of antagonistic lovers and malicious deception but this Ado is as cool and refreshing as an umbrella crowned cocktail.
Beatrice (Rachel Leslie) and Benedick (Howard W. Overshown) have both sworn off love. They profess no interest in marriage. They fight with one another like a pair of witty cats in a bag. They tell everyone who will listen about the perils of giving one's heart to another.
So, of course, everyone conspires to bring the two together.
Because this is Shakespeare there are other plots at work. There is the marriage of Claudio (Alexis Camins) and Hero (Roxi Victorian), the scheming of Don John (Joel David Santner) and Borachio (Dionne Audain), and the audience-grabbing antics of Dogberry (Alex Perez) and Verges (Matt MacNelly).
Overshown is an outstanding Benedick, re-imagined in this interpretation as a D.C. police officer. Smart, funny and grounded, he succeeds in making the 500 year-old character feel as modern and recognizable as a guy from down the block. He's well matched by Leslie's Beatrice, though the easy flow of her performance has some occasional stumbles. There are moments where it feels as though the actor is not so much working it as working too hard. The blend of current setting and Shakespearean language depends on the actors bringing an almost casual attitude to the stage. When Leslie hits that she dazzles. When she misses she distracts.
MUCH ADO ABOUT NOTHING




Folger Theatre
To Nov. 29
$39-$60
202-544-7077
folger.edu/theatre
Distracting in the best possible way are Perez and MacNelly as Dogberry and Verges. Like the two kids who were consistently separated from one another in school, Perez and MacNelly are Much Ado's class clowns. Spontaneous, entertainingly self-deprecating and altogether hysterical, the pairing is one of the play's highlights.
If you spend any amount of time in a theater seat it's hard to not sometimes wonder what it is about Shakespeare that causes so many directors to replant his work in all manner of times and places. The Folger Theatre's production of Much Ado About Nothing is one of those successful interpretations that causes one to say, "Oh, that's why."