Margaret Murray, executive director of One in Ten, the area's nonprofit organization responsible for the annual Reel Affirmations LGBT film festival every October and a host of other gay-related arts and culture events, will be leaving the organization effective Nov. 6.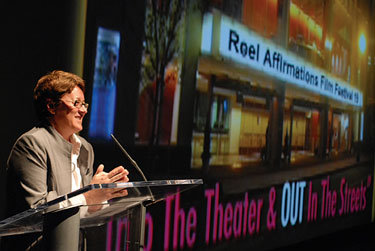 Murray at Reel Affirmations 19
(Photo by Ward Morrison)
Murray, who moved from to D.C. from Florida to take the position just prior to the 2006 festival has accepted a position as major gifts officer at Physicians' Committee for Responsible Medicine, a D.C.-based nonprofit that seeks to end animal testing, among a number of other efforts.
"The big focus [at One in Ten] is on finding an executive director or interim staff," Murray says. "My big passion is film, so I'd love to keep programming the festival or have a role in that.
"There's a big part of me that is incredibly sad at the thought of leaving One in Ten, but I'm equally excited about the prospect of starting over in an entirely new field."
Murray is due to begin her new position at the end of the month. In the interim, she plans to spend some time on vacation in West Virginia.
For more information about One In Ten, visit oneinten.org. The main phone number listed for the group on that website is no longer working. The group's new number is 202-315-1319.