It's often smaller companies who try for the kind of experimental staging that defies the usual juxtaposition between audience and players. In last season's Small Craft Warning, for example, Washington Shakespeare Company deftly incorporated a limited-capacity audience into the set itself, a seedy coastal bar, to the point that characters occasionally bussed the tables of theatergoers.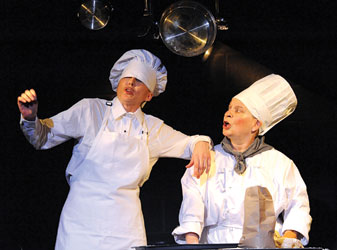 Full Circle
(Photo by S. Barouh)
It was memorable and pleasantly edgy, but such breaks from the proscenium always cut two ways. Stripped of the safety of that magic line between stage and seats and denied the anonymity of a darkened theater, an audience is forced into a new relationship with the actors and their mission. If done well, something more personal, more daring and more emotionally invasive will result.
At its best, it can be the theatrical version of a mood-altering drug: it can heighten the senses and intensify the experience. The flipside, however, of literally and figuratively unsettling your audience is that if they're too pre-occupied with the novelty of the form they may find it difficult to lose themselves in the drama. So the question will always be: can you and should you embrace that loss of fiction?
To director Michael Rohd's credit, his unique staging of Charles Mee's Full Circle works in both concept and execution. Not only do we share the mischievous joy of being moved in and around the Woolly Mammoth environs as we follow the action, but we are still afforded just enough "head space" to be drawn into the play itself.
Of course, it doesn't hurt that Full Circle is largely a comedy with a strong sardonic edge, so although there are thought-provoking moments, it doesn't require the concentration of, say, Stoppard's Rock N' Roll, another play touching on themes of Communism and the societal costs of repression
Some will loathe having to get up every few scenes and move around, with no reserved seating and times where one must stand in a crowd. But rest assured that the instructions are clear, the ushers (or guides, as they are called) are plentiful and the movements gentle. Better yet, your drink travels with you.
The logistics involved and the dramatic challenges of keeping afloat this part-madcap, part-satire, part-soul-searching tale of two women and a baby navigating the chaos that follows the fall of the Berlin Wall require an extraordinarily focused acting ensemble. Serving as essential flotation devices are Naomi Jacobson as Pamela, the Washington socialite who finds herself holding the very important baby, and the always-brilliant Sarah Marshall as the various hilariously-rendered characters Pamela meets while trying to get herself and the baby out of Germany.
Jacobson makes her lady-who-lunches far more lovable than the reality but she nevertheless has a powerful handle on exactly who this woman is and her unwavering embodiment carries us through a lot of scenes whose technical novelty could have overwhelmed the play. Marshall, with her ability to evoke people as real as they are ridiculous, seems to relish the challenges of her multiple characterizations. She is rich with dimension, irony and devilishly good comic timing. Jessica Frances Dukes as the beleaguered Dulle Griet, a young woman who finds herself au pairing for Pamela, nicely alters the mood in her thought-provoking monologues though she seems to have landed just the same kind of wide-eyed innocent role she had in Woolly's recent Fever/Dream.
FULL CIRCLE




To Nov. 29
Woolly Mammoth
641 D St. NW
$27-$62
202-393-3939
woollymammoth.net
Daniel Escobar and Michael Russotto are convincing as a pair of slightly unnerved German guards, nailing Mee's one-liners. As the playwright Heiner Muller, Howard Shalwitz credibly evokes the mores of a conflicted artist – channeling the conundrums of oppressive society and Mee's embedded messages of angst with verve. He is compelling and effective in his final cri de coeur if a tad self-conscious when compared to the instinctual performances of Jacobson and Marshall. But he has a challenging role at the end of this play – shifting us away from the hi-jinx runaround and into the deeper questions and perhaps the cynicisms of the piece. The coming together of audience, characters and issues is clever, but when it comes to the final poignancy and the metaphor it anchors, the piece loses some cohesion. Some of it is Mee's construct and some of it perhaps the use of a space that suddenly seems too big when compared to the intimacy of the earlier scenes.
Still, by incorporating the audience into the sense of crowds and chaos inherent in Mee's play — without sacrificing humor, cushions or easy access to bathrooms — Woolly offers a memorable evening of theater steeped in a recent period of history that continues to resonate.