The first time Rev. Dwayne Johnson came to Washington, he was a 28-year-old in search of a hot night out. His host had different plans.
"It was Saturday night and I was ready to go out and party," Johnson remembers. "He said we were going to church in the morning! What??"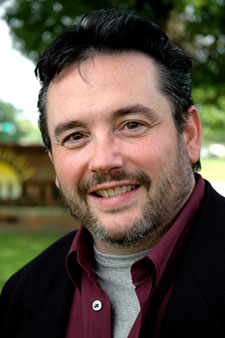 Rev. Dwayne Johnson
An early night to rest up for Sunday morning services wasn't at all what Johnson was looking for. Then again, maybe it was. Raised in a very conservative household — both his parents are Church of the Nazarene ministers — Johnson had a hard time reconciling his sexual orientation with his spirituality. That the Church of the Nazarene considers sexual relations between people of the same gender sinful, Johnson, who identifies as queer, nevertheless became a Church of the Nazarene pastor himself. His trip to D.C. from Seattle was a chance to escape that conflict, at least for a little while.
"I faced the whole idea of having to create a lie in order to pastor. I tried it for two years. It was a difficult, difficult time. I was really leaving the church in my mind."
The late Rev. Larry Uhrig, serving at the Metropolitan Community Church of Washington, D.C. (MCC-DC), a gay-affirming denomination, helped Johnson find his way back that Sunday morning in 1989.
"We talked at the end [of the service]. He said, 'You're still called to be a pastor.' … I came to Washington on vacation and found a home."
It wasn't long till Johnson left the West Coast and relocated to Washington to join the MCC-DC congregation, serving initially as a volunteer pastoral assistant at the church, then augmenting that work by preaching at other churches in the area, such as Open Door MCC in Boyds, Md., the Metropolitan Community Church of Northern Virginia in Fairfax, and MCC Baltimore.
"Washington does feel like home. I know it sounds a little dramatic, but they definitely saved my ministry, my calling — possibly my life. When you're not real to yourself, you get very depressed. I had some very difficult times with who God created me to be. I've learned that God is much bigger than the small-minded, bigoted God preferred by so many churches."
So it's entirely appropriate to consider "Rev. Dwayne," as some congregants call him, returning to Washington a homecoming. MCC-DC announced last week that Johnson will begin his work as the church's senior pastor Jan. 3.
John Dewey, the congregant who chaired the church's Pastoral Search Committee, says members of the church were polled in a variety of ways — focus groups, surveys, etc. — during the summer in hopes of getting an informed idea of the church's needs. The next part of the process was fielding candidates, 11 to start. Finally and unanimously, the committee settled on Johnson, with congregants following suit with 107 of 109 votes in favor.
Dewey says there was a particular quality to Johnson, the "sense of his deep faith, that he really held God in his heart," that may have set him apart from the other candidates. That he was a hit with congregants when he preached at two services earlier this month didn't hurt.
"When you meet him as an individual, even if just for a few minutes, he keeps a special place in his heart for you that makes everyone he interacts with feel like the most important person he's meeting that day," says Dewey. "He had the same interaction with councilmembers as with congregants. He has a great pastoral quality about him, and he's able to balance that with being able to look at the strategic growth of the congregation. He's a very outgoing person, very extroverted. He really enjoys going out and meeting people."
That outgoing nature is important as MCC-DC moves into the future, Dewey says, explaining that more community outreach is an important goal for the church.
"MCC-DC had taken a step back from outreach, from community engagement," he says, pointing to upcoming church events marking the Transgender Day of Remembrance and World AIDS Day as examples of how the church will be re-engaging. "We're looking toward healthy growth and focusing on outreach into the community."
If Johnson's last post is any indication, MCC-DC should be getting exactly what it wants. During his years as senior pastor at Houston's Resurrection MCC, a post he's held since 1996, that church's congregation doubled from 300 to 600 people and moved to a 10-acre campus. Under Johnson's leadership, the church even survived 2001's Tropical Storm Allison, which devastated church buildings.
Although Johnson shouldn't have much concern for tropical tempests once he's relocated to the District, he is aware that he's walking into a storm of another sort: the struggle for marriage equality, which has become nearly as much a religious struggle as a civil-rights one.
Johnson points out that MCC's founder, Rev. Troy Perry, married same-sex couples as far back as 1969. And in Houston, when Johnson conducted a ceremony for about 60 couples, his church had to contend with a bomb threat. Accordingly, he says, both he and MCC are staunch allies of marriage equality.
"I have been there when the rhetoric has become heated, people demonize each other," Johnson says. "You can disagree without demonizing them. We still serve together in the same city. We supposedly serve the same faith at the core. I try to lower the heat a little bit, while staying consistent. … We should offer the best weddings in town. That's something we should do well, since we've been doing it since 1969."
While Johnson's first service as MCC-DC's senior pastor, Jan. 3, won't be a wedding ceremony, it will still be a testament to Johnson's power to bring people together. Remember Johnson's parents, the Church of the Nazarene ministers? Look for them in the front pew.
For more information about the Metropolitan Community Church of Washington, D.C., 474 Ridge St. NW, call 202-638-7373 or visit www.mccdc.com.