At a time when the heavy bass of shows like Passing Strange and In the Heights and Rock of Ages are setting Converse-shod feet to tapping in theater aisles, a musical like Show Boat seems a little, well…quaint. Charming even.
It certainly doesn't seem to have a likely place on the roll call over at Signature Theatre, where this season's bill includes the meta-musical Title of Show, the gender bending I Am My Own Wife and the goth-sexy-before-Twilight-was-a-twinkle Sweeney Todd.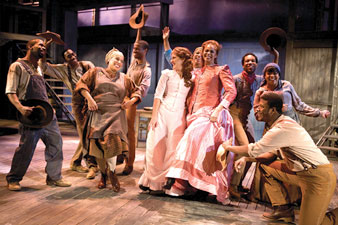 Show Boat
But here's the thing. A musical like Show Boat is exactly what we need right now. Or, more precisely, Signature's reinvented version of Jerome Kern and Oscar Hammerstein II's musical Show Boat seems perfectly timed. Behind the slightly misty nostalgia of the title is a gritty, incredibly contemporary musical that deals with issues like race, financial vulnerability, and that murky and indefinable morass – family values.
It will also afford you the opportunity to spend a few days walking around singing "Can't Help Lovin' Dat Man" to yourself. (You know how you do.)
The ship of the title is The Cotton Blossom, a pleasure boat that travels up and down the Mississippi with its own onboard theater crew. There's Ellie (Sandy Bainum) and Frank (Bobby Smith), the tap-dancing comedians. There's Julie (Terry Burrell), a brilliant actress with a voice to match, and her husband and significantly less brilliant leading man Steve (Jim Newman).
And then there's Magnolia (Stephanie Waters), daughter of the Blossom's impresario Cap'n Andy (Harry A. Winter) and his Boston-bred wife Parthy (Kimberly Schraf). Magnolia would like nothing more than to be an actress.
Parthy would like nothing more than to keep her daughter well away from a "Life Upon the Wicked Stage."
But fate, as is often the case in musicals, intervenes and Magnolia not only ends up as the showboat's leading lady, but appearing opposite the man of her dreams.
Will Gartshore is Gaylord Ravenal, the man who steals Magnolia's heart with the wink of an eye and the meet-cute ballad "Make Believe." As is also almost always the case, Gartshore brings his leading man looks, charismatic stage presence and golden-age-of-Broadway voice to Signature's reworked, 276-seat MAX Theatre.
Seemingly plucked from Hollywood past is Waters, with her clean, gemlike voice and engaging stage presence.
The pairing of Waters and Gartshore is a slightly dangerous one, the risk being that this will all simply feel like a well-executed revival, too completely about evoking the past.
The risk is heightened by director Eric Schaeffer's decision to anchor Show Boat in its original time and place. No drastic shift to post-Katrina New Orleans or pre-Obama D.C. to put a bright spotlight on how some issues seem destined to dog us forever like some grim rumor.
Instead, Schaeffer has put his faith in the intelligence of Signature's audiences and the strength of his vision. There's no need for a roadmap because, even at its most romantic and nostalgic, this Show Boat is docked in the real world.
Most buffeted by that world is Burrell's Julie. Burrell is a phenomenal actor with a voice that evokes the style and glamorous sensibility of early phonograph recordings. Her performance of "Bill" is a treasure.
That's not to say that everything is smooth and golden on the Mississippi.
VaShawn McIlwain does a serviceable job as Joe though "Ol' Man River" lacks the richness audiences will have come to expect. It is, admittedly, no easy mark to hit, singing a song that is as much icon as melody.
SHOW BOAT




To Jan. 17, 2010
Signature Theatre
4200 Campbell Ave.
Arlington, Va.
$52-$76
703-820-9771
signature-theatre.org
J. Fred Shiffman does an odd turn as the "Backwoods Man" that is just too cartoonlike. (Though primary responsibility may rest with one of the worst wigs to hit the stage in a long time.) It's a great relief when he arrives back onstage in his second, far more successful role as the gruff nightclub manager Jim.
In past productions Signature has struggled with the overhead placement of the orchestra, a situation that often has actor and oboe locked in a fight for supremacy. That is, happily, not an issue with this iteration of Show Boat. Music Director/Conductor Jon Kalbfleisch brings a deft hand and a beautiful, flowing lyricism to the show that deserves both mention and attention.
As was the case with last season's interpretation of Les Misérables, the folks at Signature have once again proven their ability to not only instigate and invent, but to shine new light on those musicals that some regard as dusty, aged divas of the past. With a new spring in her step and gleam in her eye, this Show Boat is ready to show the new kids how it's done.