What would make life easier for all involved would be saying that Arena Stage's new production of The Fantasticks is…fantastic.
It's a headline writer's dream come true.
Make no mistakes, much of what director Amanda Dehnert has conjured for the magic-inflected, sideshow-flavored confection is just that. Fantastic. The Lincoln Theatre show is vividly colored, deftly crafted and brilliantly conceived.
Where it falls short is with some members of its ensemble. There are performances here that will set you back in your seat, clapping and laughing and realizing how it is this simple little show boasts the distinction of being the longest-running musical of all time. (The original ran 42 years off-Broadway. If you're looking to make a comparison, Cats, the musical that was "now and forever," ran just shy of 18 years on Broadway.)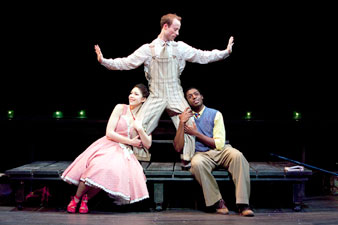 The Fantasticks
(Photo by Scott Suchman)
Unfortunately, there are other performances where the actors seem struggling to keep up. What results is an uneven production that – while still well worth the price of the ride – falls shy of its ambitions.
It's generally assumed that it is completely impossible to not know what The Fantasticks is about. For some reason, when a show has been performed in all 50 states and some 70 countries, one assumes everyone has sat in a darkened theater trying to remember the kind of September when life was slow and, oh, so mellow.
But in case you're one of the uninitiated, The Fantasticks is the story of a young man and a young woman living on opposite sides of a very tall brick wall. As young men and young women do in plays and musicals, the two fall in love in spite of their feuding fathers.
What the kids don't know is that Hucklebee (Michael Stone Forrest) and Bellomy (Jerome Lucas Harmann), the fathers, built the wall and their mythic falling out as a way of bringing the kids together. They want Matt (Timothy Ware) and Luisa (Addi McDaniel) to marry. It's reverse psychology set to music.
In something of a departure from the usual, praise and applause must first be heaped on the designers behind this iteration of The Fantasticks. Perfectly situated in the Lincoln's historic U Street building, designer Eugene Lee has seamlessly set a well-worn and richly textured carnival midway. It is breathtaking.
Similarly inspired are the magical effects devised by Jim Steinmeyer and Jeff Grow. Far more than eye-catching flourishes, illusion designer Steinmeyer and magic consultant Grow have devised illusions — from cascades of flowers conjured from thin air to classic disappearing cabinets — that completely root themselves into this normally minimalist show. So perfectly in fact, one begins to wonder how The Fantasticks could have ever been performed without them.
The magic tricks are brought to stage by Nate Dendy as The Mute and Sebastian La Cause as the roguish El Gallo. Think of them as a kind of carpetbagging Penn and Teller.
Reminding us that miming and clowning are true dramatic art forms, Dendy is as enchanting as the illusions he creates. His is a strong presence on the stage, all the more notable as he's the one character who never speaks a word.
Far less silent is the outstanding Laurence O'Dwyer as the aged and rapidly declining actor Henry. O'Dwyer brings impeccable comic timing to the role and makes a prime performance out of the deflated windbag. It's a bar-raising move that often overshadows his fellow cast members.
McDaniel and Ware hold their own as the lovestruck teenagers, as does Jesse Terrill as O'Dwyer's vaudeville-meets-Peter-Pan's-Lost Boys acting partner.
THE FANTASTICKS




To Jan. 10
Arena Stage
At Lincoln Theatre
1215 U St. NW
$25-$74
202-488-3300
arenastage.org
But La Cause, while cutting a perfectly handsome figure as the bandit El Gallo, turns in a performance that doesn't quite match the visual. His acting work is solid and his charm onstage is undeniable, but there is a hesitancy to his vocal work. This comes most strongly to evidence in his thin delivery of the show's centerpiece "Try to Remember."
But the vocal issues are not La Cause's alone and this is the crack in the Arena production's brilliant facade.
There is a distinct lack of continuity in both the quality and delivery of the musical's songbook. More than a display of individuality, the members of this cast appear to be singing in entirely different musicals, each with a completely different intention. There is no coherent blend here, only a collection of loosely threaded numbers sung by performers who have stumbled into one another on the midway.
Perhaps there's some genuine magic in the air though as, despite the vocal issue, it is nearly impossible to not be swept up by this production of The Fantasticks. It might not be entirely fantastic, but you will definitely want to remember it.