Inside Lambda Rising, D.C.'s only bookstore dedicated to the LGBT community, it's hard to find any indication that the store will be closing its doors for good in January. Even on a weekday afternoon, a handful of customers wander among the many books, magazines, DVDs, candles and other items you won't find on the gay-and-lesbian shelf at Barnes & Noble or Borders.
In an office that sits atop the store at 1625 Connecticut Ave. NW, the walls of which are decorated with paintings and artwork of young men skinny-dipping, owner Deacon Maccubbin can't help but shed a tear when reflecting on the store's 35 year history at its Dupont Circle location, especially when talking about the challenges employees faced during the store's early days in dealing with anti-gay torment: bomb threats, harassing phone calls and frequent vandalism of the storefront windows.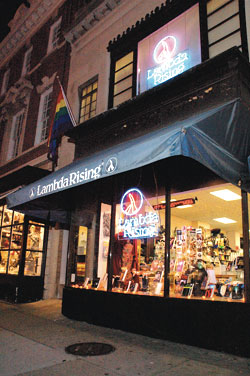 Lambda Rising
"The good side of it was other non-gay business owners up and down the avenue pitched in, raised money and helped us pay for the replacement of the windows because they said they didn't want people to get the idea that gay people weren't welcome in Dupont Circle," Maccubbin recalls.
The hate was never enough to scare Maccubbin away.
"I don't know why," he says, tearing up. "Stubbornness, I guess. I've been a stubborn old coot all my life and I just don't like people to tell me what I can and can't do. I have quite an arrest record to prove it."
That arrest record became the centerpiece of Maccubbin's 60th birthday celebration six years ago, when Maccubbin, his husband Jim Bennett, and friends piled into a limousine, stopping at each location where he had been arrested — mostly for gay-related protests — to raise a glass of champagne.
"It was a wonderful way to celebrate 60 years of life."
And now Maccubbin is looking forward to celebrating his retirement by traveling with Bennett around the world, starting with the Czech Republic.
"We've been thinking about [closing Lambda Rising] probably for five or six years," he says. "We've had people that have offered us really substantial amounts of money for buying the business, but our feeling was that they were deep-pocket people who were looking at it only as an investment. They weren't in it for the community. They weren't in it for the literature. They weren't in it for the reasons that we were here. They were in it because they thought it was going to be a really good moneymaker. And I didn't relish the idea of walking down Connecticut Avenue and seeing that logo in the window and realizing that this store was being operated in a way totally different from the way we would have operated it."
Maccubbin planned on announcing the closing Nov. 16, but decided against it when news spread about the sudden closure of the 40-year-old Washington Blade.
"I thought, 'We just can't do this today. The double whammy would just be too much for me, and everybody.' And so we postponed it for a couple of weeks to let things shake down."
Three weeks later, Maccubbin declared in a Dec. 4 press release that his mission had been accomplished, that D.C. and the rest of the country had come a long way from the days when gay and lesbian literature was not accessible, and that the Dupont Circle and Rehoboth Beach, Del., Lambda Rising stores will close in January. A Baltimore location closed in 2008, and a Norfolk, Va., outlet shuttered its doors in 2007.
"You'd go to the library and if you had the courage to ask the librarian where the gay books were, they would tell you, or you could look them up in the card index, but when you'd go down to find them, they weren't on the shelf — they had disappeared," he says. "They were disappearing for two reasons: Homophobes were stealing them so that people wouldn't get a hold of that 'nasty' literature, and closeted gay people were stealing them because they were too embarrassed to check them out."
These days, most bookstores have a gay-and-lesbian shelf, and if you can't find what you want on those shelves, you can find it online.
Longtime local gay activist Frank Kameny, who visited the store weekly, disagrees with Maccubbin's "mission accomplished" sentiment.
"My feeling is that that's premature," Kameny says. "His mission is well advanced, but not accomplished yet. A huge amount of material that you find at Lambda Rising simply is not available anywhere else that I know of."
Kameny says that includes merchandise that he would purchase during his weekly run to the store.
"Like many people, I am a fan of pornography and there's one magazine that I picked up monthly and I absolutely haven't the faintest idea where I would be able to get it elsewhere in the city. On their tables they have serious books, and a shelves of serious books that came out a long time ago, that are no longer current, but on one occasion I had wanted something that had come out many years ago, and there it was and I knew it was going to be there.
"I hold Deacon with a great deal of respect. He's a longtime friend. I hope maybe he'll change his mind."
Unfortunately for Kameny and others shocked by the announcement, that's unlikely, as Maccubbin claims to have already sold the building that housed the Dupont location.
"Going to Lambda Rising was one of my rites of passage as a young gay man in Washington, D.C.," says local author Louis Bayard. "It was one of those places you could go where you felt safe to explore the gay world and learn things, and it makes me sad that it won't be around for the gay men coming up in the next generation.
"I know you could argue that maybe we don't need to have a separatist environment anymore, but I think it's still needed. I think particularly for young gay people, they need to know that there are these places where they can congregate in a very safe and secure way, and explore themselves and their new community. I think it will be sorely missed. I'm very sad to hear about it."
Bayard was one of many authors who appeared at the store over the past three decades. Others have included Olympic diver Greg Louganis in 1996, whose appearance, says Maccubbin, drew more than 2,000 people.
"Ten minutes before he's going to start the event, his entourage tell us that earlier that day they had had death threats," Maccubbin recalls. "We were planning on putting him in the front window, which is what we do often with authors. Instead we put him in the back corner of the store where he was as far away as possible. Then we actually had staff members who volunteered to stand in the window to block the view into the store so he was protected."
Maccubbin says the reaction to his announcement has been "overwhelmingly supportive."
"Scores and scores of e-mails are coming in nonstop from people who are sad to see the store going, but they understand the reality of this situation."
That reality naturally consists of a financial component. Maccubbin points to a trend of sales being down at virtually all brick-and-mortar bookstores. Beyond that, he also notes that retail in general has taken a hit from the recession. He notes, however, that Lambda Rising could have remained an economically viable enterprise, at least in the short term.
Maccubbin says he loved serving the local LGBT community. Still, there were times he wished there had been more community support.
"Certainly we could have used more. There were times when people would come into the store and do research, writing down book titles and what have you, and then walk out the store and order it online. That happens in every bookstore now. That's not unusual. People say, 'I can save a dollar if I order it on Amazon.' Well that's true, but when was the last time Amazon donated something to Whitman-Walker Clinic or made their facilities open to groups that do fundraising or volunteer recruitment and things of that nature?"
Reflecting on better moments, Maccubbin calls the 1993 March on Washington the store's "finest hour."
"We did a quarter of a million dollars in five days," he says. "It started on Thursday at 10 a.m. with a line that wrapped all around the corner, and that line continued nonstop until 10 o'clock on Monday night. So for five days we had a line of people at the front door. Sometimes the line went around the block and around the corner.
"We would walk up to them and entertain them by saying things like, 'You must be this tall to ride this ride,' and asking people where they were from. They would say Colorado Springs, Colo., and we would say, 'Welcome to America.' I would ask them if they wanted smoking or non-smoking, and we would just make them laugh, and that made a big difference, because we kept them in a great mood for the whole time."
That was a victorious moment for Maccubbin, who started selling gay and lesbian literature on one of the shelves at a paraphernalia store he owned in the '70s, after visiting New York's Oscar Wilde Bookshop. Lambda Rising got its own space in 1974, in a 300-square-foot room in a townhouse on 20th Street NW, selling about 250 gay and lesbian books, thanks in part to a loan from local activist Craig Howell.
"I thought it was an excellent idea," Howell says.
In 1977, Lambda Rising moved to 2012 S St. NW, before moving in 1984 to its current location.
In 2003, Maccubbin bought New York's Oscar Wilde Bookshop to save it from closing. He sold it to its manager in 2006.
Reacting to the closure of the Connecticut Avenue store, Howell says he's not surprised.
"So many independent bookstores have had such struggles in the last few years, it's a miracle any of them can survive. Between online groups like Amazon and the big mega bookstores undercutting independent stores like Lambda Rising, right and left, I've long feared that this day would come.
"It doesn't make the blow any easier to sustain."