"I was always kind of fascinated by Martha Graham," says Dito van Reigersberg about the larger-than-life dance legend. He calls her "an almost mythical figure," haughty but lonely, naughty and nice. In other words, the perfect base on which to (loosely) model a drag queen.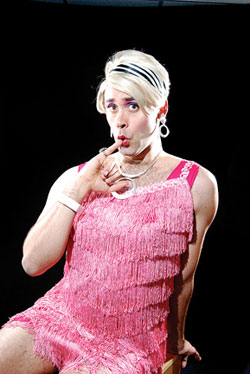 Martha Graham Cracker
(Photo by Todd Franson)
But van Reigersberg's Martha Graham Cracker isn't like most drag queens you know. For one thing, he actually sings. "I sing in a kind of high tenor-y place, sometimes in falsetto," he says, adding, "[this] is not a full-on illusion: I still have hairy shoulders and a hairy chest." And at 6 feet, 8 inches in heels, van Reigersberg towers over the audience.
Originally from D.C., the 37-year-old established himself as an actor and theater producer in Philadelphia more than a decade ago. He just celebrated four years of performing a monthly Cracker cabaret there, and also made a recent debut in New York. But last year's performance at D.C.'s GALA Theatre was the cabaret's first outside his adopted hometown.
This weekend's return to GALA features a five-piece band (up from three), and there's also a new lineup of songs, from a flamenco version of Berlin's "Take My Breath Away" to a nearly unrecognizable version of "Don't Cry For Me Argentina." With improvised banter in between numbers, no two shows are exactly alike.
Despite its namesake, and the fact that van Reigersberg studied at the dance maven's eponymous school, don't expect a lot of choreography. "It won't look like the Rockettes' Christmas Spectacular," he concedes. "I will do one high kick though. That's my final offer."
Friday, Dec. 18, and Saturday, Dec. 19, at 8 p.m. GALA Hispanic Theatre, 3333 14th St. NW. Tickets are $25. Call 202-234-7174 or visit galatheatre.org.