With his spouse holding the Bible, David Huebner was sworn in this afternoon as the United States Ambassador to New Zealand and Samoa in a moment that Vice President Joseph Biden said would be "advancing our national journey."
Ambassador Huebner – with his spouse, Dr. Duane McWaine, and the Vice President at his side – told the more than 100 people assembled that his grandfather was an immigrant and his father was a meat-cutter, then noted that, "I was sworn in next to a spouse of a different race and the same gender as I am."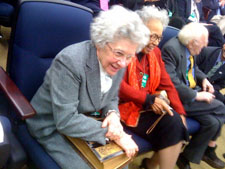 Elizabeth Huebner holds the Bible on which her son, David Huebner, would be sworn in as Ambassador to New Zealand and Samoa. To her left is Dora McWaine, mother of Ambassador Huebner's spouse, Duane McWaine; and longtime LGBT activist Frank Kameny.
(Photo by Chris Geidner)
"In America," Huebner said, "such a trajectory is not only possible, it is natural."
The swearing-in happened only after one false start, in which Biden came into the South Court Auditorium of the Eisenhower Executive Office Building and told the crowd, "This is not official," as he quickly went over to greet the mothers of the Huebner and McWaine.
Beginning the ceremony by saying, "Mom and mom, it's great to have you here," Biden shared that both he and Huebner "come from northeastern Pennsylvania," with Biden's oft-noted Scranton roots and Huebner having been raised in Mahanoy City. Biden also took time during the ceremony to acknowledge that McWaine, a psychiatrist, was serving the nation as well by putting his career aside to go with Huebner.
Biden said that both he and President Barack Obama believe that America's interests are best represented abroad when that representation "reflects the true diversity of our country," including race, religion, gender and sexual orientation.
"It's the fabric of who we are…. That's not why you're here. You enhance our image because of it, but that's not why you're here."
Huebner left Mahanoy County to attend Princeton University and then Yale Law School in the 1980s, after which he accepted a fellowship working for a member of the Japanese legislature. Since then, Huebner has established a reputation as, in Biden's words , a "master international arbiter and mediator" – most recently living in Shanghai as the head of a Los Angeles-based law firm's China Practice.
Biden highlighted Huebner's community efforts, in which he "operated with the heart of a public servant" revitalizing the public library in his hometown and focusing on national efforts such his long-time service as the pro bono general counsel for the Gay and Lesbian Alliance Against Defamation.
"Every place you've been," said Biden, "you've walked away with the respect of the people you worked with."
Huebner's mother, Elizabeth, was down from Connecticut with his brother, Rick, for the ceremony. Beaming from the front row of the auditorium, she described her son with an anecdote: "As I said to him the other day, 'What's next on your list?"' Laughing, she said that he replied, "Isn't this high enough for you?"
She said that Huebner's father, also named David, would have shared her spirit.
"If his father was here, he would have no buttons left on his shirt," she said. "Every time David achieved something, that man glowed."
Following a Friday evening reception, Huebner and McWaine were scheduled to depart over the weekend for the embassy in Wellington, New Zealand.