The first thing you need to know about RCKNDY is that the name is pronounced "rock candy." With that out of the way, owner David Dennis is happy to dive into the meat of his merchandise: modern home decor urbane urbanite. "I have very strong opinions about how things can be done better," says Dennis. "We try to offer a modern, contemporary point of view, which is a little bit difficult to find in this city. We also try to scale to condo living. With so many condos built in the past few years, that's becoming essential here." Visit RCKNDY at 1515 U St. NW, Monday through Saturday from 11 a.m. to 8 p.m., or Sundays from noon to 6 p.m. Closed on Tuesdays. Call 202-332-5639 or visit rckndy.com.
Yummy Origami
Fold these adorable porcelain ornaments into your holiday mix and you're guaranteed an extra-cheery holiday. From 180 Degrees, these hard-edged holiday treats sell for $16.50 apiece.
Designer Desk Set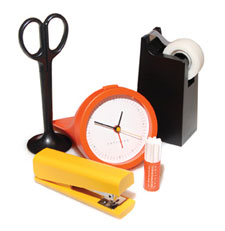 As the world has not gone as paperless as we were once promised, there's still often a need for scissors, staplers and the like. These Anything Design desk accessories, ranging from $39 to $69 will help you keep a clean and chic work surface.
What's the Dish?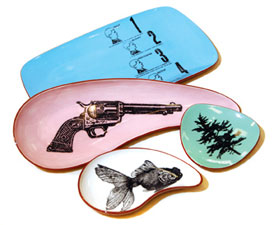 This Cul de Sac line of sophisticated ceramics from Laura McKibbon look good enough to eat — off of. Food-, dishwasher- and oven-safe, why not? These functional and fetching pieces range from $39 to $149.
Sweet Slumber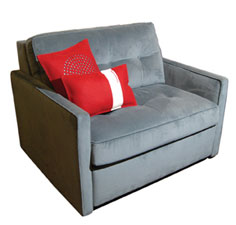 David Dennis loves the Natasha line, particularly those pieces that transform into beds. Perfect for a smaller home, the Natasha sleeper chair, starting at $1,999, allows anyone to enjoy the special thrill of holiday houseguests.
Felt Up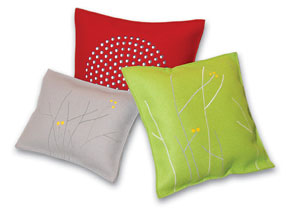 Area artist Gretchen Cook transforms her soft touch — developed as a national journalist, no doubt — into felt pillows that soothe with their simple elegance as well as their imported fabric. Grab your own for $85 to $95.