Greater Mount Calvary Holy Church is no stranger to the local gay community. On one hand, church leader Bishop Alfred A. Owens Jr. has a reputation for some homophobic preaching. And the church was in the news not so long ago when there was an attempt to out gay members of the congregation.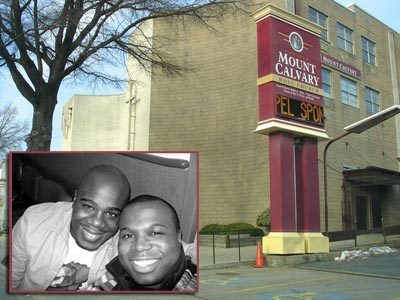 Jon Mack and Michael Garrett
Aside from the whiff of persecution, what makes that outing attempt doubly disturbing is that there are gay members of the congregation. Quite a few, actually, according to some who have attended services.
Sunday, Jan. 3, Jon Mack and Michael Garrett were among them.
Although the Bowie, Md., couple recently began attending services at the gay-affirming Covenant Baptist Church in Anacostia, they retained an affinity for Calvary in Northeast D.C.
"The music is really nice," Mack says of Calvary. "It's really lively. It's just the environment, the people…. I just felt at home. It was a feeling like, 'This is where I belong.' But I know I'll never go back."
That Jan. 3 service not only ended the couple's relationship with Calvary, it prompted them to leave in the middle of the service. It wasn't just what Owens preached, but also the way so many in the congregation responded.
Owens's sermon that day was titled "2010 The Year We Win!"
"God, help me to please you in 2010," Owens preached. "Because if I please you, I will win. And I only please you with an acceptable lifestyle, not an alternative lifestyle. … And sex is only pleasing to God in the marriage bed, and the marriage bed is a man and a…?"
"Woman!" the congregation answered.
"Oh, you're scared to say it," Owens chided those who had not already called out. "It's a man and a woman! If marriage wasn't between a man and a woman, you wouldn't be here, because two men doing it don't produce no kids, and two women doing it don't produce no kids. It's all about the family!"
Owens went on to compare homosexuality to recreational drug use.
"I thought [Owens] was a really nice guy," Mack says, adding that he was aware of the bishop's homophobic reputation. "I bought his book. I thought he was doing a lot for the community. I really enjoyed going there. … I thought that if he doesn't say anything homophobic, I'll keep going. I even joined [the HIV/AIDS] ministry. I paid my tithe every time I got paid."
Mack says he spent days after that sermon questioning his relationship with God. His partner, Garrett, questioned why they ever attended services at Mount Calvary.
"I'd heard all these things, but I still gave the church a chance," he says. "In hindsight, was I just being stupid? Owens was really getting the crowd riled. People were out of their seats. It was like my worst fear came true.
"I tithed. I gave 'love offerings.' I've done a lot for someone who couldn't care less about me. I know that he's just a man, but I gave him a second chance and he let me down."
In a grassroots effort to fight back against Owens's brand of the gospel, Mack and Garrett launched a Facebook page not long after the offensive sermon: "Stop Hate and Homophobia in the church."
The dialogue on that page has not been entirely supportive. For example, Shane Johnson, a local man, posted: "Alfred and [his wife and co-pastor] Susie Owens are notoriously homophobic. Unless you've been under a rock, there really isn't any excuse for attending that church."
Mack isn't offering much in the way of excuses. Starting the Facebook page, however, allows him to at least have his say.
"I know Calvary isn't going to put up a gay flag, but the homophobia and bigoted remarks, we're not going to put up with that," he says. "So many people experience things at Calvary and just stop going, but nobody ever says anything.
"For him to say that, and people jumping up, showed me people who don't know me hate me for my sexuality. What he said really hurt me. The reaction of the congregation and that gay people who hear that go back every week really hurt me. … The only way I feel like I can resolve it is to have my voice heard."
Though an aide to Covenant Baptist co-pastors Rev. Christine and Rev. Dennis Wiley said the couple's schedule would not permit them time to comment, and Owens did not respond to an interview request, Bishop Kwabena Rainey Cheeks did speak about the incident. Responding to homophobia from Mount Calvary is an exercise he knows well.
"I've been hollering and screaming since I started my church," says Cheeks, pastor of Inner Light Ministries in Northeast, who is gay. "It drives me crazy. Why do they keep going?"
On a more personal level, he's far less critical of Garrett and Mack.
"I applaud that someone had enough wisdom and courage to get up and just walk out," says Cheeks. "The question has to go to the people who continue to support it. If you're telling me you go because the music is good and the worship service is that great, then I don't know what else to tell you, especially when you can go down the street and walk into a place that will truly affirm your life.
"It's painful in a way to continually watch people choose to go somewhere that does not totally affirm them. … People say, 'I was raised in that tradition.' Or, 'That's the church that my family goes to.' At some point, you have to become an adult and make your own decisions. You've got to grow up spiritually and take control."