Pay attention to the sides of Metrobuses these days and you're bound to see advertisements promoting exotic vacation destinations, local news channels or Alvin and the Chipmunks: The Squeakquel.
While it's safe to say the furry cartoon characters' movie promotion won't raise any eyebrows, not all ads running on Washington Metropolitan Area Transit Authority (WMATA, aka Metro) buses are so tame. Especially in recent days.
Some corners of the local LGBT community have been outraged by banner advertisements purchased by Stand for Marriage DC, a group that has been so far unsuccessful in fighting marriage equality in the District.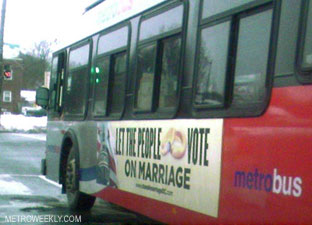 Metro bus featuring anti-gay marriage ad, seen in Ward 5 of Northeast, DC
(Photo by David Uy)
But others argue that the anti-marriage group's ad is protected under the Constitution's First Amendment, even if they don't agree with that message. Traversing the city's roadways, it reads: "LET THE PEOPLE VOTE ON MARRIAGE." The group has tried to put an initiative to D.C. voters asking them define marriage in the District as being between only a man and a woman, or not.
While the debate continued earlier this week with a public forum, the ads themselves have already come down as the ad buy only ran through October and November 2009. Though some ads may not have come down by that end of the purchased run, Metro spokesperson Steven Taubenkibel says the last of the ads should have been removed by Dec. 28.
Full Equality Now DC!, a group formed in October to help encourage attendance at the National Equality March in D.C. Oct. 11, planned to discuss the ads after Metro Weekly deadline, Jan. 6, at a meeting open to the public.
"If the ads have been removed, for whatever reason, I'm certainly happy to hear it because it means no more LGBT people are going to have to face them." says Full Equality's Colin McDonald, who considers the ads obscene. "LGBT riders don't deserve to have to look at those ads when they get on the bus to go to work, to go to school, to go see their family, their friends. When you're going about your daily life, that's not something that you should have to face."
Taubenkibel says Metro's policy for advertising in the transit system, which helps underwrite the cost of the area's public transportation, is unrestricted, save for ads that are lewd, pornographic or obscene. While McDonald and Taubenkibel might not agree on what constitutes obscenity, Taubenkibel says it has more to do with images and that WMATA gives wide berth to the First Amendment.
"The only time we will not permit anything in advertising is if there are any images of anything that is lewd, pornographic or obscene. … Advertising on our transit system is covered by the same First Amendment rights that cover other such communication in our society. We are not in a position where we can pick and choose what can and can't go up because someone may object to it."
Well-known local activist Lane Hudson, an author of last year's Dallas Principles manifesto calling for a zero-tolerance policy on homophobia, does not agree. He argues that Metro should've blocked the ads for promoting illegal activity.
"[The advertisements are] asking for something that's illegal," he says. "The [D.C.] Human Rights Act clearly states that a [vote] cannot be held that would discriminate on a list of factors, including sexual orientation and gender identity."
The D.C. Board of Elections and Ethics (BOEE) in November decided against such a vote on just those grounds. In June, the BOEE rejected a similar attempt to put a law recognizing out-of-state, same-sex marriages to a referendum, again citing the HRA's prohibition on allowing minority rights to be voted on by city residents.
But those in the LGBT community challenging that position argue that while they disagree with Stand for Marriage's message, it should be protected as free speech.
Bob Summersgill, the local activist whose past efforts have included collaborating with Councilmember Phil Mendelson (D-At Large) on a series of bills expanding domestic-partnership benefits in D.C., is in the free-speech camp.
"It's a very poor message, but the bad guys have a right to their message," Summersgill says. "They have a right to call us 'fags' or use other crude language or say that we don't deserve our rights, because that's what the First Amendment guarantees: the right to offend, and to present a political message the people disagree with."
Pushing Metro to ban such ads, he says, is a misdirected strategy.
"It targets the wrong group," Summersgill says. "It makes Metro the bad guys and makes the Stand for Marriage DC guys the victims. We're not going to win our rights by denying the rights of others."
Councilmember Jim Graham (D-Ward 1) has a unique perspective in the debate. He is one of the D.C. City Council's two openly gay members and currently serves as the chair of Metro's board.
Graham also cast one of the 11 council votes in favor of the Religious Freedom and Civil Marriage Equality Amendment Act of 2009 granting same-gender couples the right to wed in the District. That bill was signed by the mayor on Dec. 18 and is currently undergoing the standard 30 legislative days of congressional oversight.
Graham counters Hudson's argument by drawing attention to other controversial ads.
"We've had ads that have encouraged the legalization of marijuana in very controversial ways," he says. "We've had a lot of very controversial ads, and we're just not able to restrict the content. … I don't like these [Stand for Marriage DC] ads, but there are a whole lot of ads that I don't like. What we have to do is respect our legal counsel."
Lisa Farbstein, director of public relations at Metro, echoes those sentiments in an e-mail message to Metro Weekly.
"As a gay American myself, I am disappointed that a group would post these sorts of hurtful ads. However, we accept advertising on a content-neutral basis, which is consistent with our obligation under the First Amendment right of free speech.
"Metro does not endorse any advertisement, whether it promotes a product, service, event or ideology. We simply provide the medium for an advertiser to use."
But Hudson says free speech is not always "clear cut." "I just don't think that facilities or an infrastructure that's funded with taxpayers' money should be a vehicle that would allow LGBT people to be discriminated against, in violation of the laws of the governments that fund that infrastructure," he says.
He further argues that members of the LGBT community shouldn't be defending those attacking their civic equality, regardless of the principles in question.
"When we're talking about equality for LGBT people, we can't be everything to everybody all the time," Hudson says. "I'm not sure why the LGBT community has to use our limited effort and our limited resources to defend the rights of our opponents to attack us."
Full Equality's Carrie Hathorn says the debate goes beyond the questions of obscenity and free speech.
"The public display of the ads contributes to a climate of homophobia," she says," which leads to a likelihood of discrimination, bullying and hate crimes."
For more information about Full Equality Now DC!, visit fullequalitynowdc.org.