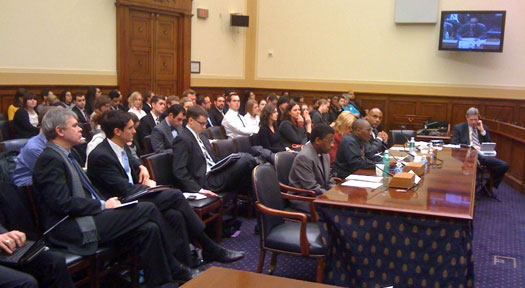 Julius Kaggwa, seated at table second from left, testifies at the Tom Lantos Human Rights Commission Hearing on Uganda's proposed Anti-Homosexuality Bill on Thursday, Jan. 21.
(Photo by Chris Geidner)
Saying that "the bill has increased fear among all of us –especially sexual minorities — and among everyone who believes in respect for diversity in Uganda," Julius Kaggwa told the Tom Lantos Human Rights Commission of the first-hand fear that Uganda's proposed Anti-Homosexuality Bill was causing.
Kaggwa, a Ugandan member of the Civil Society Coalition on Human Rights and Constitutional Law, testified at a hearing of the Tom Lantos Human Rights Commission in the U.S. House of Representatives on January 21 about the proposed bill and the need for the bill to be rejected.
The hearing was called for by U.S. Rep. Tammy Baldwin (D-Wisc.), who chaired the hearing and called the bill "extreme and hateful." Saying that the bill "requires a severe response," she noted steps taken by Sweden, Canada and the United Kingdom to condemn the bill.
Kaggwa, along with several others — including a representative of the Obama Administration — discussed the direct damage that the bill would do to LGBT people in Uganda. People also testified about the indirect damage that its reporting requirements would inflict upon family members and health care workers, who would be required to report those suspected of homosexual activity to the government.
Karl Wycoff, the deputy assistant secretary of state for East African Affairs, testified that the White House had made its opposition to the bill known, noting President Obama's earlier statement that "Africa's diversity should be a source of strength, not a cause for division."
Wycoff summed up the Administration's position by saying, "The bill is fundamentally contravenes a number of basic human rights issues," would impact behavior outside Uganda and would violate treaties to which the country is a signatory.
He added that the bill would remain a "serious affront to international human rights norms" even if the death penalty and mandatory reporting provisions were to be removed.
On the Administration's action, Wycoff testified that Secretary Hillary Clinton has personally informed Ugandan President Yoweri Kaguta Museveni of her strong opposition to the bill and that Assistant Secretary for African Affairs Johnnie Carson has talked with Museveni at some length and in some detail about U.S. opposition.
Wycoff repeatedly noted that "democracy, good government and respect for human rights" are the three goals at the heart of the State Department's policy toward African nations.
In response to a question from Rep. Baldwin, Wycoff said that people in the State Department have been doing "everything that we can that would be effective in this instance," adding that they didn't want actions to be "counter-productive."
That response prompted a follow-up question from Human Rights Commission Co-Chair Rep. Jim McGovern (D-Mass.) asking Wycoff to clarify what he meant.
Wycoff replied, "I just wanted to acknowledge that is conceivable that if you were to put too much public pressure," if the U.S. were to be seen as "piling on" – "that it could be counter-productive."
Kaggwa appeared to agree with Wycoff on this, testifying that "it is not only a foreign policy issue; it is a national issue" and saying it is "important that local voices" are heard as much as international voices are heard.
Cary Alan Johnson, the executive director of the International Gay and Lesbian Human Rights Commission, also testified about the impact outside voices could have on the debate about the bill. He said that "local, but also regional, voices should be heard."
Johnson noted that President Obama has an "unprecedented" standing in Africa and "his voice caries great weight." He added that the United States government should do what it can to encourage "other African nations and the African Union" to express opposition to the proposed bill.
Rev. Kapya Kaoma, from Political Research Associates, talked about the influence of outside religious conservatives on the country. He said, "Conservative religious leaders are seen as experts on sexuality" and that the view among many in Africa, shared by these religious leaders, is that homosexuality itself is "a Western import" – a type of 'colonialism."
Kaoma testified that the U.S. "must" make known to the leaders and people of Uganda that "these religious conservative views are not representing government views."
U.S. Rep. Carolyn Maloney (D-N.Y.), the only other Member of Congress in attendance at the hearing, said that the proposed bill "has sent shockwaves throughout the international community."
Kaoma appeared to agree with this assessment but noted that the U.S. should use this opportunity not just to impact the situation in Uganda, but — like Johnson — asked that "the United States should consider asking the majority of African nations to review their . . . views on" LGBT issues.
The final testimony came from Christine Lubinski, the vice president of global affairs for the Infectious Diseases Society of America. Lubinski testified at length about the impact the bill would have on HIV/AIDS prevention and treatment in Uganda.
Lubinski testified that the reporting requirements "would cripple the provider patient relationship, making it virtually impossible for physicians . . . to provide quality comprehensive medical care."
Johnson said that the bill "will in fact damage Ugandan families" by turning family members into "informants" – contrary to the language used by supporters of the bill that it would protect families.
Johnson summed up his fears and the apparent views of all those who testified, calling the bill "a blueprint for the type of witch hunt that the Ugandan community cannot afford and the world community cannot abide."